Herding Kites: Anthology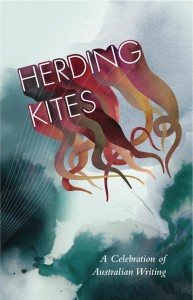 Herding Kites: A Celebration of Australian Writing (Paperback)
Marking 10 years of the National Young Writers' Festival (NYWF), Herding Kites is a new anthology celebrating the breadth, originality and dynamism of Australian writing. Bringing a semblance of order to a decade of creative chaos, Herding Kites showcases the talents of everyone from unheralded underground mavericks and hot up-and-comers to internationally acclaimed wordsmiths – all writing for the love of the craft and not just the salvation of a cheque. Anthologised by Michael Williams, the book includes short stories, poetry, plays, scripts, memoirs, comics, artworks and more. The diversity reflects the ethos of the festival itself by putting writers from different backgrounds and levels of experience on equal footing. Herding Kites (288pp; $27.95; October 2008) is a joint initiative of the NYWF and Affirm Press, a new Melbourne-based company dedicated to publishing books that have a positive impact on the community, that influence by delight rather than being earnest or right-on. It aims to promote new talent, nurture emerging writers, and celebrate the creativity and diversity of Australian writing. Inside you'll find work from: Anna Funder, Pat Grant, Lisa Dempster, Luke You, Ula Majewski, Shaun Tan, Tuppy McIntosh, Cristin O'Keefe Aptowicz, James Stuart, George Dunford, Max Barry, Krista Berga, Tim Parish, Aoise Stratford, Tai Snaith, Alicia Sometimes, Amelia Walker, Amelia Walker, Benjamin Gilmour, Steve Smart, Mandy Ord, Julian Novitz, Tom Keily, Laura McKay, Geoff Lemon, Jo Waite, Eddy Burger, Nick Earls, Jo Waite, Kate Crawford, Justin Heazlewood, Gabrielle Everall, Doug Hendrie, Krissy Kneen, Andrew Slattery, David Blumenstein, Kami, Tom Civil, Sophie Cunningham, Benito Di Fonzo, Lisa Greenaway, Shaun Tan, James Phelan, Josephine Rowe, Lou Smith, Lee Tran, Lam, Richard Watts, Keg de Souza, Tom Doig, Henry Feltham, Tobias Manderson-Galvin, Bravo Child, Jennifer Mills, Anna Krien, Chay-Ya Clancy, Linda Jaivin, Nicolas Low, Bec Giggs, Vanessa Berry, Chris Flynn, Daniel Watson, Anna Westbrook, Andrew Lowenthal, Luke You, Romy Ash, Ianto Ware, Augusta Supple, Shaun Tan, Leigh Redhead, Charles Firth and Fiona Katauskas.