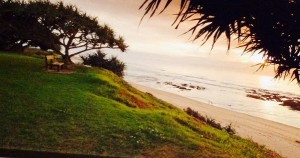 (As an attempt to re-enter, perhaps in a different way from before – I thought I'd start by updating some previous offerings made to the internet. This blog post was written for a show in 2012 exploring homecoming and teenage nostalgia. In my usual cavalier
manner I had pecked it out really quickly and not really thought much about it. I thought I'd aim for a re-entry by going back in time so I might begin to move forward.)
There wasn't much that was sweet when I was sixteen.
Living in a small coastal town near Woolgoolga in the banana belt of NSW, there was little that linked me to the outside world. TV was limited to 4 channels, I was secretly obsessed with Paul Reiser from Mad About You, I was glued to Helen Razer's voice and song choice on Triple J like a grommet clings to his surf board at Woopi Beach.
All the while my face was buried in suspiciously pristine ancient history text-books provided by the high school with the vain hope that education would set me free from the shit hole I was trapped in.
It was the 90s. Read more