The Composer Is Dead | Sydney Opera House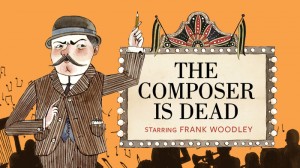 Children's content is possibly the most important content in the world – films, music, theatre can create a moral, personal, ethical compass for a child beyond their familial and educational realm. The experience can set up a child for life – or cure it of ever wanting to spend time in or near a theatre. It is particularly difficult as society emerges with children and babies being more photographed and publicly "shared" via facebook and other mediums – than ever before in history. The idea of self, entertainment and non-screen based activity for children has changed and will change from the former frames of work. Children have – more than ever – on-demand access to a wide variety of entertainment and so theatre for children is a competitive sport requiring great nibbleness and a suite of skills.
In theatre, the audience is 50% of the equation – and if the audience is not right for the show – or the show not right for the audience – it can be an unfortunate mismatch. In the realm of children – this is even more of a sensitive topic – whereby certain ages will exclaim that something is baby-ish whilst others will be so bored/disengaged they will wiggle in their seats, look at anything but the stage and ask loud questions of their parents about what is for lunch or why are they there. (All questions definitely worth asking). Sometimes well-meaning parents – citing their four year old is a genius will take them along to a 7-year-olds + performance, only to be surprised that the content doesn't match the child. It happens.
What I think is more interesting to consider is how the content – the story, the language, the imagery, the stage craft – tells the story it is telling to the audience it is telling it to. And that is the essence of understanding reviews.
But enough with this melange of social theory, philosophy and pro-review propaganda… the matter at hand is The Composer is Dead an orchestral mystery by Lemony Snicket. I couldn't help but race through Walter Benjamin's Death of the Author whilst watching this new production. I couldn't help but think of the notion that this might be an introduction to the Opera House for many young people. It might be the first time seeing an orchestra. I thought of the awe and wonder I had beholding that building for the first time. As I watched I tried to imagine and connect to being tiny and new to art – what would I think of this man in the moustache and all those wooden, twirly, shiny curly instruments?
Then I sat back and relaxed…
Written for www.australianstage.com
Large white sails interrupting a beautiful blue Sydney sky, the be-pebbled concrete of the foyer, the grandeur of a tiered wooden concert hall – offering the promise of something grand, befitting the scale of awe and wonder of architecture.
There is a charm in children's literature which offers an irreverent playfulness – an element of infinite possibility, and an exemplary example is that of Lemony Snicket. It's hardly surprising his is a pseudonym – or that he has a revolving biography that offers a fresh take on identity. Everything from: "Lemony Snicket was born in a small town where the inhabitants were suspicious and prone to riot. He now lives in the city. During his spare time he gathers evidence and is considered something of an expert by leading authorities" to "Lemony Snicket was born before you were and is likely to die before you as well. A studied expert in rhetorical analysis, Mr. Snicket has spent the last several eras researching the travails of the Baudelaire orphans" and "Lemony Snicket published his first book in 1999 and has not had a good night's sleep since. Once the recipient of several distinguished awards, he is now an escapee of several indistinguishable prisons. Early in his life, Mr. Snicket learned to reupholster furniture, a skill that turned out to be far more important than anyone imagined."
It's a mystery!
As is the latest local production of a show commissioned by the San Francisco Symphony Orchestra "The Composer is Dead!" Written by Nathaniel Stookey with text by Lemony Snicket, it is billed as a "cutting-edge introduction to the classical music." What it is though, is an introduction to an orchestra, to the humour and philosophical musings of the very, very clever Lemony Snicket. On this occasion the joy and delight of orchestral music is placed firmly in the baton of Brian Buggy and the Sydney Youth Orchestra – and the joy of interrogation and vaudevillian ham in the agile wit and charm of our host Frank Woodley (comedian /professional show off of "Lano and Woodley" fame who has also starred in Thank God You're Here, Bewilderbeest, Optimism, Inside)and directed by Craig Ilott (Hedwig and the Angry Inch, Smoke & Mirrors, La Clique Royale). It is less an introduction to classical music and more a witty expose of orchestral identity riffing on classical music from the Western canon.
It is nearly impossible not to want our host to succeed – he's self-reflective, goofy, awkward and determined – and we love him for his terrible moustache and because he is easily flattered by the woodwind section. In the spirit of Snicket, Woodley is playful, energetic and clever – and it is a big stage, a big orchestra –he swings through the sections always keeping his eye on the prize – us. It's a big ask for such a big room, and Woodley and Illot serve the story and the context with grand gestures befitting of the backdrop made of swathes of red velvet.
There is a simplicity in the production that is appealing – charming in the grandeur of it all. But there is a disconnect between the concept of an "introduction" and a playful riffing on assumed knowledge. Unfortunately the former is not sufficient to support the later – and the show itself is best pitched to those who have some prior experience of orchestral music who are ready for the references and the knowing nods to composers (and decomposers) to slide slickly into the story.
For any child and parent familiar with the grandeur of classical orchestral music The Composer is Dead is guaranteed to amuse and delight by the mere charm of simple story told well.