Mojo | Sydney Theatre Company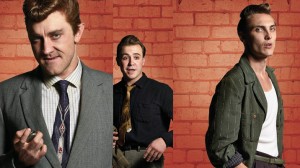 Dragging my feet like a reluctant school child. I've been on the verge of writing so many times and yet prioritized everything above this task. It's a fear of mine – deep and dark and quiet, cruel and steady, so casual in it's proliferation – apathy.
I dread apathy. I fear complacency. I feel compelled to guard against it. I sometimes feel the righteous burn of wanting to rid it from those around me who weakly concede "but that's how the system works," or "that's just how it is." We lack imagination and ambition with that line of thinking and I can't help but feel the deep need to build on the legacy of what has got us this far: the vision, bravery and fortitude to do something new, something better.
Occasionally I come across a play which is so urgently shouting it's lineage and credentials, that I am forced to step back. Rocked back in my heels at the sheer weighty tidal wave of effusive significance or pedigree or accolades.
Such things always gives me cause to pause.
Mojo by Jez Butterworth is one such occasion.
Mathematically this production should add up. Talented director, talented designers, talented cast, hot zeitgeist aesthetic. But really there was something lacking.
Sitting there waiting to be transported or transformed I felt myself detaching from the world in front of me. Sitting aloof and indifferent – at best thinking "clearly there was no need for women in the 1950s in England" at worse thinking "why am I watching this? What is this saying to me?"
In 1995 when Mojo first stumbled across a stage in its first trembling steps, the neo nihilism of grunge was sweeping the world. The utopia of the previous generations offering love and peace was an empty promise and the resulting cynicism left those in its wake seeking numbness. Since then, candy-coloured pop music film clips have sought to compensate – offering Katy Perry and cheesy glamour as the antedote to contemporary western culture's symptomatic depression. But in the 90s, the 50s cool was still keeping on – the legacy of James Dean, Happy Days, Grease – easy and familiar silhouettes on youthful memory. Cool was everything. Still is. So not surprising the clash of the above ground and the underground was such fertile soil for so many. I think about the context – beyond the particular playwright – into the large narrative of time and culture what this contribution means.
Perhaps what has happened in my reading of this play – in my context here and now – I've seen, read too much and so the naive unselfconscious ramblings of the boys in Mojo appear to be derivative (even if it did precede the flood gates of homage, retro 50s fascination). Referring to Guy Ritchie's Lock, Stock and Two Smoking Barrels, Quentin Tarantino's Pulp Fiction… or any Jacobean tragedy or series of Channel 9's Underbelly.
What I found most difficult about this play is how little I cared for or about the characters, their fate, their past – the story.
When I don't care, I find it hard to share. When it's hard to share, I don't want to write about it.
And that inaction nearly destroys me. And so I write. Write something. Anything. Just to prove that I've not been beaten by apathy or complacency.
Written for www.australianstage.com.au
It's dripping with Retro chic in every way possible. Sydney Theatre Company's latest Wharf 1 offering has rockabilly, hipster fanfare written all over it: the promise of a 1950s rock and roll, dark gritty underbelly time capsule. An edgy feast for those hooked on the heavy thud of booted bovver boys, or so the Artistic Director's note and the Director's note suggest.
However Jez Butterworth's Mojo is not delicately laced with the quaint tinge of nostalgia that retro acts of art can bring a contemporary audience, but drenched in design and nearly pulled under in the near two decades of gang/drug/thriller genre-content offered since its premiere in 1995.
The premise hangs on the fate of a single character "Silver Johnny" and the den of corruption and desperation that seeks to control his unstoppable talent. In the wake of real-life pop-star scandal (Justin Beiber, One Direction, Elvis Presley) and the subsequent spread of film, TV and gaming media geared to the underbelly or ganglands of other places/other times. This is a fairly familiar tale, told by Butterworth in a fairly unsurprising manner.
Though dutifully and deftly delivered by a very capable cast – Jeremy Davidson, Eamon Farren, Josh McConville, Lindsay Farris, Ben O'Toole, Tony Martin – and underscored by the musical ruptures of Alon Ilsar and Paul Kilpinen – Mojo falls short of the explosive and effusive praise quoted in the program.
Iain Sinclair with an all-star team of Pip Runciman (Set Design), David Fleischer (costume design), Nicholas Rayment (Lighting design) and Steve Francis (Sound Design) has produced a handsome and technically coherent piece of stage work. But the play's the thing. And it failed to inspire or intrigue.
Running at two hours and thirty minutes, including interval, it runs for about as long as Quentin Tarrantino's Pulp Fiction's theatrical release (which was released a year earlier in 1994) without much of the glamour, humour, quirk, craft or curiousness. The story unwinds in a simple and unambiguous, linear fashion collecting moments of individual revelation from each character. The affect is an inordinate amount of steaming, stamping, brotherly drug taking, sexually ambiguous threats, some stale cake, some powerful guitar and a couple of bloodied garbage bins.
To what end? Is this a portrait of another time – to be regarded with the reverence of ages past? Is this an attempt to show the downfall of drug taking? Or the downfall of joining a gang or a band? Is this proof that men are essentially self destructive? Is this story to show the latent power of the next generation? And what do we learn?
It appears that the retro chic design of this production, fails to elevate the play above the resulting onslaught of like-genre parables of boys behaving badly.