Norm & Ahmed and Shafana and Aunt Sarrinah:Soft Revolution | The Alex Buzo Company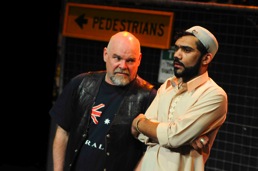 This is the longest I have taken to write a review. I have a 48 hour deadline.. but I usually stay up until 2am to write a first draft while it is fresh in my mind: but this one, for several reasons, has taken me a little longer. One of the reasons is I really liked the plays and another was because I felt a strange sense of longing about the production: and I had to turn the problems in my mind over for a day or so , so I could make sense of my reaction. The major thoughts are influenced by two Platform Papers: Cross Racial Casting: Changing the Face of Australian Theatre by Lee Lewis and What IS an Australian Play: Have we Failed our Ethnic Writers? by Chris Mead.
The major problem I feel quite accutely is two things: the lack of cultural diversity of actors in the Sydney Theatre scene…. and why 'haven't we heard a Muslim Woman's perspective by a leading australian Mulsim Woman playwright? Why is there such a lack of representation in playwrighting and in acting? I saw Craig Meneaud in Womera written by Josh Wakely and directed by Alex Broun in 2002 at the Old Fitz, I thought it peculiar that skin colour more than cultural background was more important in that particular casting decision. These comments have nothing to do with the talent of the people involved: I note it as a curiosity: why is the Sydney theatre landscape largely controlled by the white male? Craig Menaud is a fantastic actor and I very much hope that he is cast beyond his skin colour in general. I do not expect writers of crime fiction to be murderers or police investigators… why do I wish that a play about Muslim issues be written by a Muslim? So that is why… I had to sort out these things for myself before sending out into the world of Online Theatre Reviews a tangled perspective.
It is an exciting and bold premise: an Australian classic play in a double bill with a contemporary play. Exciting because rarely is new work commissioned and rarely given the type of production support beyond the independent fringes. Bold because Buzo's play Norm and Ahmed carries with it a huge history, it carries a powerful statement about Australian society, and was the play that launched a formidable voice in Australian playwriting: Alex Buzo. Alana Valentine's Shafana and Aunt Sarrinah has been commissioned by The Alex Buzo Company to "respond" to Buzo's work in order to "plant it firmly in the present point it towards the future and create a stronger "through-line" for Australian theatrical heritage." The boldness with any double bill, is the curse of comparison and contrast: and that is perhaps exactly what we are desperately in need of: examination of consider when regarding the current Australian theatrical landscape and what it seeks to echo- the wider Australian society.
After a critically acclaimed season at the Old Fitzroy Theatre in 2007, the remount of the production now scaled up and with its companion piece is an ambitious and bold move for The Alex Buzo Company. The double bill directed by Aarne Neeme , supported with design by Deirdre Burges and Lighting design by Tony Youlden, Producer Emma Buzo spans two very different worlds. The world of Norm and Ahmed: a place on the street, littered with graffiti of racist slogans, plastic junk food wrappers and a construction zone covered in tarps, caution tape etc. For Shafana and Aunt Sarrinah : Soft Revolution a world of the indoor life/ work and home of two Muslim women living in Sydney- a science lab at the University of Sydney and the home of Aunt Sarrinah complete with an olfactory journey which develops as the story unfolds.
Norm and Ahmed explores the complex relationship between a white, Vietnam veteran Norm and Ahmed a Pakistani student studying arts. Thoughout the course of their meeting, their conversation Norm shares his perspective on Australia, immigration, and his world view in general while Ahmed largely listens providing limited conversation. It is an examination of questions surrounding the larger questions of "what is a life?" "what is a good life?" and "what makes a good home?" More than forty years after the first performance, this is a play which continues to challenge and confront. Norm (Laurence Coy) is a man who desperately wants to connect with someone, lonely and alone since the death of his wife and Ahmed (Craig Meneaud) a student on his way home from working to support himself at University, is stopped to light a cigarette. This is no dusty museum piece for students to be forced to sit through. This is not medicinal theatre- see it because it is good for you… this is an incredible play: engrossing and exhausting and confronting.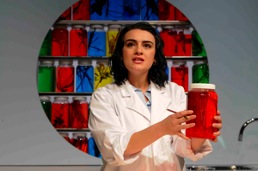 Shafana and Aunt Sarrinah: Soft Revolution is Alana Valentine's companion piece. Shafana (Sheridan Harbridge), a marine biologist at the University of Sydney preparing to present a conference paper is interrupted by her Aunt Sarrinah (Camilla Ah Kin) who is on her way to get her student card laminated. Shafana and Aunt Sarrinah: Soft Revolution introduces us to two Persian women of different generations who live in Australia: Shafana arrived when she was 14 and Aunt Sarrinah, a highly educated Engineer, who arrived after having an established career and doctorate in her homeland. Throughout we are made aware of the aspirations of both women, their sacrifices and their strength and determination, and also their spirituality.
Not often explored on Sydney stages, Muslim spirituality is largely overwhelmed by representations in the media and Valentine, (best known for Parramatta Girls and Run Rabbit Run) has confronted this topic through the stories told to her by a "cross section of Muslim women" some named some unnamed. This is indeed brave and unexplored territory by most of Sydney's theatre practitioners: the world of the contemporary Australian Muslim woman. Audiences understand Muslim culture in relation to the media, perhaps occasional contact: but are not necessarily familiar with the intimacy of the dynamic within the community. Valentine shows us a world wherein her characters are intelligent, empowered, in touch with their spirituality, and who happen to be Muslim. And in doing so, reveals a tender and intimate relationship between aunt and niece. Intense and unsolvable, the ensuing conflicts between these two women- two generations who are linked as family, through their religion and their love for one another are divided in their beliefs about the expression of their spirituality: wearing of the headscarf.
I am not going to compare and contrast: I will leave that up to you with your friends and families in the foyer post-show.
This is a powerful night at theatre and a welcome, bold, essential addition to the culturally homogeneous theatre one can expect to see in some of the larger venues around town. I believe this to be an extraordinarily brave and bold double bill containing four very fine performers. Actors who embrace the challenge of new work, with new perspectives are worth their weight in effusive praise and I feel compelled to mention the spectacular performances by Camilla Ah Kin and Sheridan Harbridge who confront this subject with tenderness, fierceness and great compassion- to the extent that I felt stunned and broken by the time the lights dimmed.
For those who are adventurous and tired of the white, safe, predictable plays of late and who are ready to be truly moved and inspired by theatre: I urge you to see this production and compare and contrast.
August 5th- 29th 2009| Seymour Theatre Centre