The Lonesome West | Arts Asia Pacific & B Sharp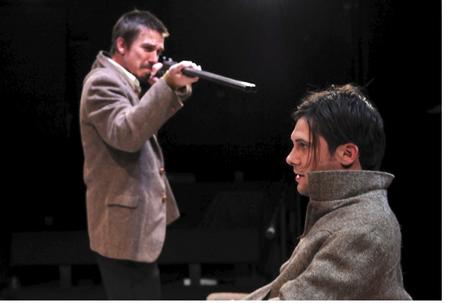 This was a funny review to write- mainly because I am knee deep in New Australian work at the moment with Brand Spanking New- Which opens in 4 weeks- or it could be because I spend alot of time reading about th Australian film Industry- about audiences, about marketing of Australian product. So I am naturally geared to look at programming choice. I am naturally scanning the field to see what is on right now in Sydney- If a tourist came to this city looking for Australian theatre- could they find it? Coudl they find it easilly? Perhaps at some stage I will either accept or not care about the programming choices- maybe one day I will give up, embrace a life of stoic predicatbility in a law firm or even a corner shop… or perhaps my long standing fantasy of becoming a florist…. but until that time I will ask about the programming choice.
Toby Schmitz is a talented young man- and every man and his dog knows that. This year we have seen him in Rabbit (STC), Travesties (STC) Ruben Guthrie (COMPANY) and now LONESOME WEST (B SHARP), and soon in cinemas Three Blind Mice – it comes with it a branding of quality, of cheeky comedy, of laddish quips and intelligent robust performance. Also Martin McDonough is a sure thing for many audience goers- farcial black comedy- tarrintino meets clowning meets Sam Shepard meets Sartre- or something of the like. McDonough is a brand that is a sure thing- throw in Sybilla Budd (Secret life of Us) fame and you've got a show in one of Sydney's most exclusive Independent venues.
Is anyone thinking what I'm thinking? Why isn't this show in the upstairs theatre? It has the pull power of a larger audience doesn't it?
The aspects which therefore keeps this show in the downstairs space may be the lack of theatre directing experience for surely what is so strange about this show is the directing- we see stage craft ignored. The blackouts serve as a edit point for each scene. Basic blocking craft- entrances and exits are not deliniated from scene to scene. The transitions between scenes are treated as though the audience is to ignore what is 3 metres away from them in semi darkness.
This is not my favourite McDonough Production I have had the pleasure to enjoy. For all those who saw Jeff Goldblum in Pillowman on Broadway in 2005 will agree- when McDonough is done right- you feel damaged, terrorized and freed all at once- you feel elated in a strangely unsettling way.
This is not going to be a very popular review- infact I am sure may will disagree with me… it seems Jason Blake didn't mind it as much as I did. I wonder what Diana Simmonds thought?
Here is my review first published on Australian Stage website:
https://www.australianstage.com.au/200908262809/reviews/sydney/the-lonesome-west-%7C-arts-asia-pacific-b-sharp.html
For those who are familiar with Martin McDonough's work: The Beauty Queen of Leenane (recently staged at the Seymour Centre by Wild Fire Theatre Company 2008 & 2009), The Pillowman (Company B- Upstairs theatre 2008), and previously The Leiutenant of Inishmore (Company B- Upstairs theatre 2003), and last year's Sydney Film festival offering In Bruges, the current production of The Lonesome West contains all of McDonough's signature quips, threats and domestically dark moments of reckoning.
Centred around the domestic disputes of brothers Valene (Travis Cotton) and Coleman (Toby Schmitz), The Lonesome West is a play akin to that of Sartre's "No Exit" or the work of Sam Shepard- with domestic troubles that offer no means of escape- no means that is, but suicide. Within this world, the parish priest Father Welsh/Walsh (Ryan Johnson), is having a crisis of faith/self- doubts his purpose, his impact and is losing confidence by the day, as the town's suicide rate increases. The local teenage girl Girleen (Sibylla Budd) makes money poaching liquor to tight fisted Valene (who diligently marks his belongings with his initial), and has no qualms supplying liquor as economically crippled Coleman watches on.
This is a world in which funerals offer a steady supply of vol-au-vents, wherein a teenager is a philosopher and a mercenary to an alcoholic priest, wherein the daily routine is filled with threats of damage or general terror concerning tater chips.
At the heart of the piece is a comment about consumer society wherein we care more for belonging- money, a stove, a packet of chips- than for our neighbours, school friends and even family. It is also a play about the games people play to assert their standing- to elevate themselves through diminishing those around them. Worthy comments, and cunning poignant observations tumble from the mouths of Girleen and Father Welsh.
However, the production itself falls somewhat short. The transitions between scenes, relies heavily on black outs and scuffles from silhouetted actors arranging their own props and furniture failing to keep the pace across the full piece. There is a distinct absence of tension, particularly in the final moments of the play- wherein we no longer believe the actual threats being made between characters. Instead this is a very casual, naturalistic portrayal of a black farce: a style which relies heavily on pace (of dialogue and scene changes) in order for the final confrontation to be completely loaded and terrifying. It's not. What is quite terrifying is some of the stage management aspects of the final 15 minutes- which left me uncomfortable for all the wrong reasons.
This is Peter Castairs' theatre debut after a distinguished career of short films, and the recent feature film September- which may account for some of the very static blocking of the actors and the scene transitions. The cast lead by the very prolific and talented Toby Schmitz and the dynamic Travis Cotton do their best in the confines of the downstairs theatre, which on this occasion has an emblematic functional design.
A fan of McDonough's work will listen for the unique wit, the horror of the mundane, the poignant message, the unpredictability of people and will forgive the rest. I certainly do.