Queen Street Studio's Blueprint Residency | FraserStudios, Chippendale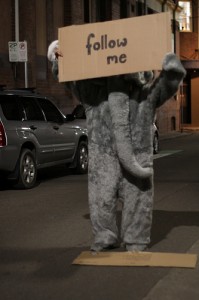 Last Saturday night, under a clear dark blue sky, fifty people stood on the street in Chippendale, waiting for the latest showing at Queen Street Studio to start. Busy talking amongst themselves, it took a while for the audience to notice the elephant walking towards them- holding a sign which said:
"4am"
and another that said
"Follow Me"
We made our way en masse under the roller door of Studio 10- into a new world. Or a familiar world re-invented by the artists within.

I have been working with Queen Street Studio since early 2009. Queen Street Studio is a member-based, non-profit organisation which provides studio space run by artists for artists and is a response to the lack of affordable and appropriate space for artists in Sydney to practise their craft. The studios are managed by local artists Sam Chester (Choreographer) and James Winter (Theatre Director) who are supported by a Board of Management made up of industry peers. The organisation manages FraserStudios; a new multi-disciplinary art space for Frasers Property. Located at 10-14 Kensington Street, Chippendale (3-minute walk from Central Station), the FraserStudios facility includes: Studio 10: Space for meetings/seminars/launches/arts-business, Studio 12: Non-commercial exhibition space for visual artists, Studio 14: Rehearsal studio for performing artists and very soon to be opened, the freshly re-floored/renovated Heffron Hall. (By the way- if you want to get an exclusive invite to the Heffron Hall opening, send a donation towards the renovations to :http://www.queenstreetstudio.com/support.html and be a part of history!)
In addition to providing affordable rehearsal space, Queen Street Studio produces training programs for Sydney's independent performing arts community as well as residency programs for both the performing and visual arts sectors, Supported by the City of Sydney. Blueprint to is the latest addition to Queen Street Studio's programs to support emerging artists and was designed in response to groups of devisors sending in applications to Off the Shelf- Queen Street Studio's script Development hothouse. I felt that the devisors needed their own mini residency- to test ideas, to focus on developing relationships with other artists.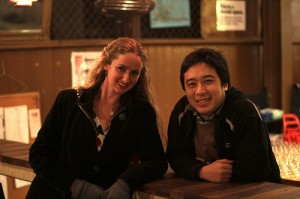 Though out the residency artists were mentored by TK Pok who has a huge amount of experience in the development of devised work. For me it was really important to offer the artist a "phone a friend"/ out side eye option, should they need it – to provide them with additional support during the creative process- and also to remind them- that a showing is not a make or break, it is not the end point of anything- it is a beginning just as much as it is a deadline. The three groups were left to their own devises and resources to make something in the space… and the they did- three pieces emerged- distinctly different- utterly unique and all three embracing spontaneity and reacting to the space.
The residency encouraged artists to apply with a view of creating a site specific devised work at FraserStudios. They could choose from Studio 10, 12 or 14- and had to write a proposal outlining their ideas and process. Open to groups and individual performers from all backgrounds and disciplines, Blueprint aieds to provide emerging artists with time and space to develop their practise and artistic enquiry. More information about the program can be found on the Queen Street Studio website:
http://www.queenstreetstudio.com/blueprint-residency.html
Here's a little summary of the works: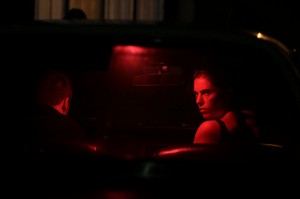 In Studio 10: 'Ebony and…'
Through our month long residency we started to play around with a few ideas that came out of our response to the studio space, as well as additional secondary source material that was brought into the room during rehearsals. We have experimented with how movement, text, photography and sculpture can interplay to create a piece of live performance in this specific site. What you will see tonight is a fragment of what may go on to be developed into a durational multi-site specific work in the years to come.
Artists: Scarlet McGlynn, Phil Spencer, Brooke Robinson, Gemma O'Nions, Glenn Judd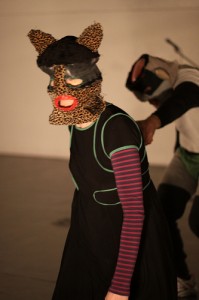 Studio 12: Have you ever wanted?
The project will be an opportunity for artists Huw Lewis and Jacqui O'Reilly to explore an interdisciplinary enquiry, expanding the limits of particular fields of practice. A ten-minute performance will be devised from this exploration. Two sensibilities, male and female, and the traction of psychosocial engagement will inspire themes implicit in the works. These themes will include desire, rejection, ego and apathy. A range of 'real time' preparatory explorations, based on exercises learnt from Rosie Dennis at her Permaculture Workshop in 2009, will form part of the creative process of the project. Designing sound parameters will also be involved to treat vocals used in the performance. The use of masks and costumes will be explored in the rehearsal space.
Artists: Jacqui O'Reilly & Huw Lewis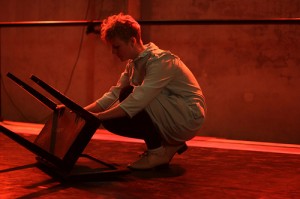 Studio 14: Discarnate
'Discarnate' explores the latent sounds of the historic Queen St Studios building through the metaphor of ghosts. We were to adopt the personas of 'mediums' that would listen, channel and record sounds manifest by our presence and actions in the site. The passivity of listening soon gave way to a desire for action, to create rhythm, melody, and even suggest at narrative. In a cyclical structure, action is recorded via its sound trace, which is then overwritten by present action. Initial action exists as its trace, but contends with subsequent traces that accumulate in a multitudinous history speaking all at once of the past from the point of the present. The title 'Discarnate' is contradictory, as the piece is generated through the bodily action of performers, yet fitting in referring to the two-fold definition of performance as both present action and it's subsequent existence through its traces. The aesthetics of the work were influenced by the industrial history of the building and the horror genre
Artists: Amy Wilson & Megan Garrett Jones