Off the Shelf # 4 | Queen St Studio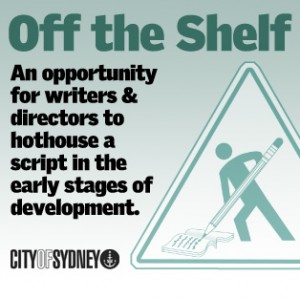 In a warehouse in Chippendale, I sweep a giant concrete floor. I lug chairs. I listen as a rehearsal takes place. I thank Julia for buying the cheese. James checks where to put the lights. Sam sends me a text message saying good luck. Pete purs himself a glass of wine. I change out of my black, sweaty clothes into a floral dress. I welcome into Studio 10 friends, colleagues and industry representatives. I place the chalk board outside the roller door – I've written on it " OFF THE SHELF" with a big arrow pointing to an open door.
Now at the end of its second year, and 17 new Australian plays later, Off the Shelf is the space and place where writers and directors can develop their working relationship whilst working on a script of their choice. Providing a deadline to artists and the support needed to develop plays, Off the Shelf is the answer to a multitude of problems I have identified with the development and the production of new Australian plays.
After the success of three Off The Shelf programs, one of which propelled four full-length plays into the inaugural Sydney Fringe festival with award-winning results, it was a wonderful way to end a year of successes for New Australian writing.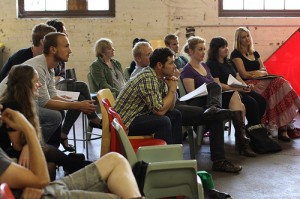 80 people filed into the Studio 10 space to view the new works – all ready to provide written or verbal feedback. But the message is clear. When you attend an event like this – you are saying you support new Australian work. And nothing, absolutely nothing speaks louder than when a literary manager, an artistic director or a programmer comes to participate and celebrate in this work. And what is 2 hours once, every 6 months? I think it's pretty good. 2 hours of meeting and engaging with a new play that talented actors have spent hours preparing for you to enjoy is SO much easier than reading alone in an office, well I certainly think it is.
What I love about Off the Shelf is that it is 4, not 1 play which is presented. 4 different plays by different playwrights all at different stages of their development… so it's an instant cross section of work NEW work which is on offer. And I love the collegiate behaviour. I love the feedback which is offered – always generous, always willing to support and cheerlead, always read to confront the writer… and I love th bravery of all involved to actually TALK about new work – terrifying as it can be.
Thank you for those who came, who have supported and continue to support the development of new work – and a bit "sorry you missed it" to those who couldn't make it – there's some pics for you at the end of this post – but here's a taste of what went on.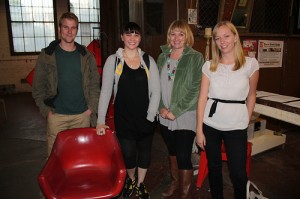 SMALL LIFE
Written by Zoe Hogan
Directed by Paige Rattray
Read by Shari Sebbens | Raymond James | Carl Batchelor | Kimberley Hews
Small Life is about finding families in challenging places – on the streets and far away. A girl makes a living as a beggar and manager of beggars. Across the road from a famous cinema, she struggles to manage new relationships and old debts.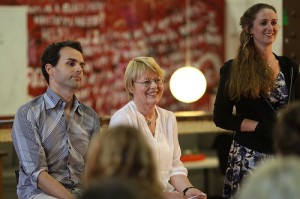 UNHINGED IN HORNSBY
Written by Andy Leonard
Directed by Helen Tonkin
Read by Jan Langford Penny | Gary Edmonds Wood | Lynden Jones | Deborah Thomson | Luke Carson
Shane is quite the proverbial arsehole. After an accident he moves home to convalesce at his mother's urging. His hen-pecked father, Jim, puts a six-week time limit on the stay, for everyone's sake. Many many years on, however, Shane is still there, inflicting SBS Russian news on his poor old dad, steadfastly ignoring the jobs and real estate sections of the paper that his dad leaves out for him every week, and bullying his mother into driving him to the pub so he can piss his pension up the wall. When the shady Booner comes to stay and Frank Sargeant joins the fray, the stage is set for disaster on an epic scale.
***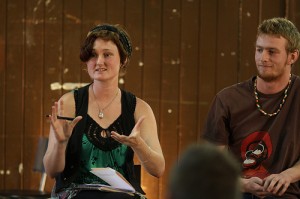 IN THE COMPANY OF DEAD CATS
Written by Emrys Quin
Directed by Carolyn Eccles
Read by Sebastian Lamour | Nick Willis | Lilian Silk
After desperately seeking relief in any form from the grief caused by the death of a dear friend, Michael – Ray, Lily and Daniel are meeting for the first time since Michael's funeral, three months ago, in the flat the four of them had shared. Never the most stable judges of social ettiqute, the three find there's comfort to be found in the accidental maiming of domestic pets
***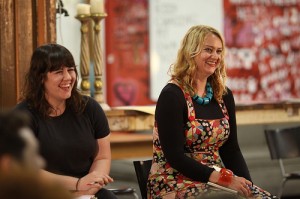 CRUSHED
Written by Melita Rowston
Directed by Lucinda Gleeson
Read by Lucy Miller | Jeremy Waters | Sean Barker
On December 12, 1988, Sunny Girl Susie turned sweet sixteen. Her boyfriend Jason gave her a Poison t-shirt, her best-friend Kelly gave her a name necklace, Kelly's boyfriend Dazza gave her a handful of pills.On December 12, 1988, Susie disappeared. Her body has not been found. Twenty-two years later, developers excavating nearby scrubland discover evidence that drags Jason, Kelly and Dazza back for the bleakest of high school reunions.

***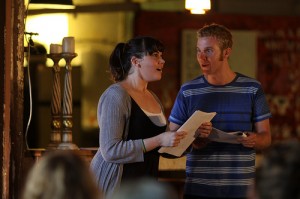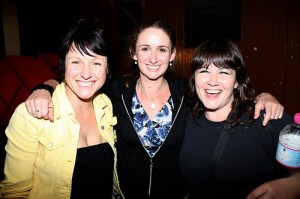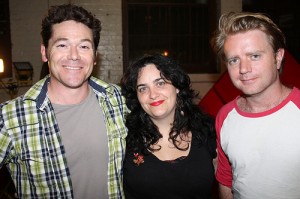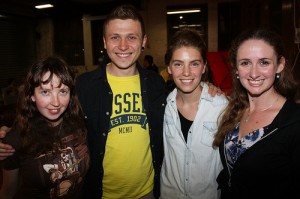 More information on Off the shelf and Queen Street Studio, visit http://www.queenstreetstudio.com/