Not a Review of Women Power Culture – Then & Now | New Theatre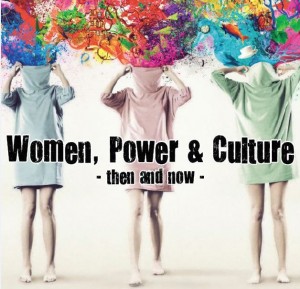 This is not a review.
It can't be. It's unfortunate that the little tab on my site says "Reviews" when really this is not a review. it's a post. Well perhaps it might be a review of sorts as I re-view the past month or so working on my pieces for Women Power Culture. I am viewing it – or responding to the questions I have been asking myself about many things.
This is my year off.
Last year I headed many projects – projects which excited and challenged and delighted me – I had set 2010 as a year when I offered as many opportunities to artists as I could. A year in which I would refine and delight in curating and programming. This year, 2011, was to be my year off. No Spankers. No Off the Shelf. No Stories from the 428. No fringe festival curating. A year off to see what would happen if I didn't make things happen for others – would it be reciprocated? Would my skills and enthusiasm be harnessed and rewarded in a steady paying job? I decided to float along and to see what would happen.
One of the things that happened was the very flattering offer from two very talented playwrights – Alana Valentine and Vanessa Bates – to direct their respective pieces included in Louise Fischer's "Women Power Culture" season at New Theatre. I had some reservations directing for the season as I didn't want there to be any confusion that this was a "Women's version of Brand Spanking New." But I love directing – I love working with writers and actors – and so my achilles was revealed and I succumbed.
THEN
That Night we Lost Jenny is a beautiful 18 minute monologue by Vanessa Bates – written with actor Jane Phegan in mind. Jane and Vanessa had previously met during Brand Spanking New 2009 when Anne-Maree Magi directed "Homemade" written by Vanessa, performed by Jane. For me, every act of creation brings with it a type of magnetism. Suddenly the content illuminates part of my life, co-incidences occur – my world is refelected and highlighted by the work. This piece was no different. I gre up in a small town north of Coffs Harbour, where surfing and preganacy were the two major past times of teenagers. I had my fair share of midnight adventures with friends. Interestingly enough – the weekend of this piece opening, was also the weekend of an "unofficial reunion" at the Seaview Tavern in Woolgoolga -where $15 was promised to cover finger food and entertainment. For me this piece is one decade earlier than my own experience: I wasn't a teenager in the 80s. I was of the grunge era – the rise of The Smashing Pumpkins, the fall of Kurt Cobain. The nihlistic rage, the dull pointlessness of it all – but still – teenage rebellion is not new. Teenage daring is not new. The surprising, difficult confrontation of looking back – and realising we aren't where our teenage selves thought we would be.
Vanessa's writing is beautiful. poetic, brutal, funny and utterly honest. And what makes her such a delightful writer to work with is her curiosity about the sound of the words – and the confidence in director (me) and actor (Jane) to find the real place in which the work sits and her grace in allowing us to own and discover. She gave us permission to dive in and explore.
Jane Phegan is a wonderful actor to work with – diligent, disciplined, generous, fun, smart. She has an adventurous core to what she does and a cool calm self-knowledge. She cares about the audience and loves to tell a story. And for me sifting through the ideas – the songs, the images – and making sure we put the simplicity and elegance of the text at the fore-front was nothing but joyful rigour.
NOW
Alana Valentine is probably one of Australia's most prolific, in demand playwrights. She has a formidable list of acheivements and her impact on Australian theatre is found in classrooms, box offices and the creative and cultural consciousness of Australians. Though specialising in verbatim theatre, her piece "The Sex Act" is not a piece of didactic theatre-in-education piece – but a kaliedoscopic human story about the legacy of second wave feminism, the social prejudices which manifest in gender politics. It's a meaty piece of political theatre and raises many questions – more than a person can answer in an evening.
Working on this piece is a collective of completely creative actors. Kate Skinner, Luke Carson, Stephen Wilkinson, Odile Le Clezio and Bridgette Sneddon – who without reservation dedicated themselves to the realsiation of this 32 page adventure. Cross-dressing, inter-generational kisses, slapstick, politics, impersonations, strings of statistics, fights, rants, realisations – this play has it all – and they we absolutely tireless in offering, creating and discovering.
Regardless of the cracking schedule – 12 rehearsals held over 16 days – part time, unpaid and squeezed around the everyday demands of life – these actors created a fun, funny sweet and fierce piece of action from Alana's intensely intelligent and powerful script. I have nothing but awe and pride in these artists – who were tireless in creating and sticking with and to the script – focusing on the work and always ALWAYS putting the work first.
THE SEASON
Comparisons are onerous.
The danger of a suite of short works is that audiences immediately default to trying to rank the pieces. in fact reviewers do it too. And it's not very interesting to me. I have no interest in any psuedo competition – for me it is about the whole season – the whole experience the audience is offered – it's about the context of the work.
By many measures this season has been difficult – for many – the challenge of working around many schedules with limited time, space and resources means that sometimes the work suffers – and sometimes the relationships between artists suffers. Sometimes in the extreme sport which is theatre, egos flair, ideas clash, creative energy swells and collides – and sometimes out of the fiery furnace new love and respect is born – sometimes relationships are obliterated. Sometimes artists feel lost, disapoointed, sometimes they feel hard done by, unheard and like failures. Sometimes not is what they hoped or dreamed.
These struggles are fortifying.
they define you as an artist – they ask you to redefine – reassess – re-examine. They ask you to stand by yourself and what you know, and what you want. they call on your courage. It challenges your compassion adn your integrity. Some give up. Some roll up their sleeves and get to work.
I believe all experience is positive.
Perhaps not now, it can feel like a small form of hell, but later – as it shapes and directs you into who and what you will be.
I have been granted the great honour of working with exceptional artists during this project. I am, and always will be firmly in love with my cast. I have experienced the enduring patience of lighting and sound operators and stage managers… I have been surprised and delighted by the generousity and kindess of actors. I have been deeply honoured by writers. I am a very lucky person.
As far as the social context/The importance of this season – especially in a Pro-Am/independent context- is the room to fail, learn, grow, develop. For me the season being about women and feminism – is as important as any ideas presented on social justice – as any festival that focuses on promoting and producing new work by living local playwrights. I think it si completely possible to have a seaso of work about women power and culture which includes perspectives by men. After all I believe that feminism is a social concern – and is everyone's reponsibility and realm- not just women's business. The rights and opportunities and the status of women concerns everyone. This season for me is just as much about men as it is about women.
WHAT ELSE?
There are five shows left in the season – and a panel discussion. details can be found here: http://newtheatre.org.au/
Special Event: Sexing The Act – Saturday 5 November @ 2pm
This free public forum will question how far we have (or have not) come since the passing of the historic Sex Discrimination Act 1984. With special guests Adele Horin, Jane Caro, Eva Cox, Verity Firth, Katrina Fox, Gabe Kavanagh, Maha Krahem Abdo, Hetti Perkins and Susan Ryan.