Best We Forget | isthisyours & Tamarama Rock Surfers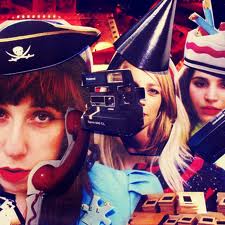 It was last Wednesday when I saw this show. I don't need my diary to remind me of that.
The show is winner of the Adelaide Fringe Award "Best We Forget" and the synopsis goes like this:
"Three characters fight off panic as they explore their fears and fascinations with forgetting. Funny and frighteningly truthful Best We Forget will not be forgotten."
I had been prompted several times by a publicist, producer, actor and director to attend. All had sent me invitations and/or reminders in the last month. The final reminder was a phone call from the producer – double checking/reminding me that Best We Forget was opening the following week. I must admit to being a little taken aback/annoyed. What made them think I'd forget? There it is (in INK no less) "8pm Opening Night Best We Forget @ Old Fitz" accompanied by a little yellow sticky tab in my precious diary. I'm not unreliable. Am I? I don't think I am. I don't remember that about me…
We are told at the top of the show by the very articular Jude Henshall: that try as we might, by tomorrow we will have forgotten 35% of what happened that evening in the theatre. That this is natural… and as the days goes on, our memory slides… editting out things… non-essential things, skewing and shifting… curating our memory…
But? But?
Where does that leave me?
So. Here's what I do remember:
Feeling smug about parking my car in an impossibly snug parking spot.
Striding out in black satin petty coat supported skirt and military vest with my hair up in a bun.
Rubbing Phil Spencer's back as a hello as he sat at the bar with a girl.
Seeing Fiona Butler opening up Box office.
Noticing my phone says 7:06pm.
Fiona giving me my ticket.
Fiona inviting me to help myself to a program.
Finding a seat upstairs in the corner.
Texting that information to my date.
Overhearing conversation from a gaggle of British tourists, recently arrived on a cruise ship – all looking for a date. 5 men. One woman.
Being compelled to be down stairs, because of the afore mentioned conversation.
Being nervous about running down stairs in heels.
Grabbing a menu from the bar.
Being greeted by Sanja Simic who I acknowledged as Assistant director.
Being greeted then rejected by Scarlet McGlynn who was on the verge of a production meeting.
Chatting with Luke about his baby.
Smelling John AD Fraser's aftershave.
Cheeky chats with Luke and John.
Pre-show pub salad with my lady date, Sama Ky Balson.
Running into Scarlet in the lady's bathroom.
Then our banter about glamour.
She referred to my outfit as "funky."
Fiona taking my ticket at the door.
Feeling impressed by the set design.
Admiring the neutral conference centre carpet
Admiring the neat and orderly vertical blinds.
Sitting with Jason Blake who remarked how he was instantly won over by the Sinatra Sound track.
Discussing the choking hazzards associated with afore mentioned vertical blinds.
Recalling the very disappointing vertical blinds in my apartment.
Quick banter about what we're seeing next.
Medium length banter about the This is Our Youth coming to the Sydney Opera House.
Reminiscing about our experience of the 80s.
Discussion on the 1980s zeitgeist happening in theatre in Sydney at the moment.
A quick informal pre-show hello from Jude.
We are welcome to get a glass of wine from the casks at anytime during the evening's proceedings.
Fiona's beautifully presented acknowledgement of the Gadigal peoples – and the gesture when reminding us about our glasses in the dark.
Sama whispering that she's a great usher.
Me whispering back that Fiona is also a great actor.
The actor's bright red lipstick.
An introduction.
Three slim directional microphones.
Pleated cream coloured table like that of a press conference.
A dark voice, a dark fringe.
Red hair.
A pen received.
Triangles of purple and magenta light.
…
…
…
Rapturous applause.
Feeling elated.
Chatting to Brad Syke from Crikey.com
Eating the piece of bread brad's guest was covetting.
Being rejected for a cheek kiss by Finn O'Brainnagain – due to illness.
Finn's pale face.
Chris Summers starting to re-introduce himself
Reminding him that the last time we met was at Underbelly on Cockatoo Island on the 16th April 2011.
Floppy fringe of Phillip Kavanagh.
Sama champagne and phone in hand bidding me farewell.
Green grapes.
Lavosh crackers with poppyseeds in them.
Thanking Nadia Rossi for an excellent show. " Loved it. Well done"
Introducing myself.
Nadia acknowledging that it was nice that I had offered my room to the Lighting Designer.
Saying something like, "my pleasure."
Thanking Leonie Tillman on the way out. "Loved it"
Her saying tell everyone.
Me responding "I will."
Me saying "Good night, Mr Blake."
Him saying "Take care."
Me saying, "You take care too!"
Me leaving.
Walking towards my car, a woman calls out, "Excuse me"
I turned around on the street.
"You dropped this" she said handing me my raincoat's belt.
"Thank you, you're awesome" I said.
Went to my car.
Unlocked the door, sat inside, started the engine. Turned down the radio immeidately stopping Faith No More blasting.
Drove home.
********
As you can see it is not because I can't remember that I have left out the performance details. I remember quite a lot. It's been nearly a week. On a chart mentioned in the show, my recollection should be dangerously close to that x axis of exponentially diminishing recollection. It's not.
Because the show uses a host of mnemonic devices to help me.
A reviewer's dream! (especially for me, who never takes notes – if I can't remember it – it didn't matter).
I'm not going to be one of those "clever" reviewers that notates the best jokes and moments of the show. Mainly for your benefit, because you'll really enjoy this show. And I recommend you go. I do. Very much.
I have an excellent memory. I use it a lot. I practice remembering. I vocalise memory, I write and repeat it.
The thing about theatre – making it, watching it, reviewing it – is that it is all about memory. We keep in us a hidden bank of theatre experiences – just as we do with life. The memories we keep are sometimes fickle – sometimes vague. Sometimes sharp and coloured and textured. Sometiems attached to a person, or a smell or a feeling.
The worst thing in the world of this tranient artform is to be forgotton.
To have one's opening night not attended because it was too long between contact.
To have one's name forgotten, mispelt.
To make no impression on the audience.
In theatre, to be not remembered is the most horrifying thing.
And yet – forgetting and memory loss is a normal part of life (cognition) We are constantly curating and rejecting obsolete and non-relevant memories – to ensure our survival and happiness.
And so, this response is about 6 days late – and interestingly tonight as I sat down to write this – a prompt from the Producer on my facebook… as though I could forget or would forget BEST WE FORGET.
Impossible.
This meta-theatrical lecture is part confessional, part factual, part philosophical, referential, and a hilarious demonstration of the fragility of cognition. Brilliant concept, brilliant investigation, thoroughly researched, personal, intelligent, funny and beautifully presented and produced.
Adelaide based performers Jude Henshall, Nadia Rossi and Ellen Steele have been well supported a by Director Tessa Leong and creative team Govin Ruben, Alistair Watts, Andrew Russ, Sanja Simic – to make a truly cheeky, fun, clever piece of theatre.
Truly memorable. Truly defiant. Truly entertaining.
(Shall I prove it?
Alzheimers
Bourne Identity…)
And an absolute kickstart to the Old Fitz Season for 2012 – a high bar has been set – can't wait to see more!