Namatjira | Big hArt & Riverside Theatres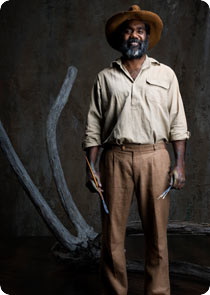 On the pastel wall-papered rooms of my grandparent's house in Coffs Harbour, three small prints (copies of paintings by Albert Namatjira) hung in silence.
It was the only slight hint at reconciliation between my grandfather (a very protestant whitefella who had been raised as a dairy farmer in Bega) and the original caretakers of this land. White gums and blue mountains were the sole oasis of understanding amongst the hatred and prejudice: the singular meeting point where both white and black saw eye to eye.
The beauty of and respect for the land.
It was many years after his death when it was discovered that though he had been a die-hard racist, his wife (my grandmother) had an indigenous grandfather. And now I see something different, when I look at the Namatjira print, which silently looks over me in my lounge room.
Namatjira's public story is one which can be easily tracked through encyclopedias and art journals.
A part of the delight and appeal of Big hArt's production is the docu-drama quality of the show, the wide sprawling facts about Namatjira's life condensed into a 2 hour show. Additionally, there is the added delight for us to meet Namatjira's relatives, who are the guardians of his story. They sit and watch, draw and listen to the story of their grandfather every night – and it is with their permission that this story is told. This is a story of their community and their grandfather – it's personal.
Since its premiere, Big hArt's production of Namatjira has traveled to several venues, gathering community like a bright comet's tale wherever it goes. And doumentation of that community building process can be found in James Waites' blog: http://jameswaites.ilatech.org/?p=5467
Kevin Jackson's review to the October production at Belvoir is in grand praise of the elements of production – http://kjtheatrereviews.blogspot.com.au/2010/10/namatjira.html
Jason Blake's review of the Belvoir premier focuses on the cultural significance and production qualities: http://www.smh.com.au/entertainment/theatre/namatjira-20100930-15z5g.html
And I could very well attempt to summarize all three writers, as I thoroughly concur with their response to this production. But I'd like to acknowledge that this is a major piece of contemporary playwriting.
Despite created in a collaborative process, the play itself is a feat of creative innovation on the part of Scott Rankin. The play traverses several languages, combining self-aware direct address monologues with musical montage, transcripts, re-enactment, re-imaginings.
And production elements aside, which weigh the production with grand gravitas this story deserves, this is an epic piece of storytelling.
However long it has been, forty or sixty thousand years, the indigenous culture is one of long-lived tradition – wherein art is deeply embedded in identity/self, where land is deeply embedded in self, as is art. Three aspects – art/self/land inexorably intertwined. Mix this with the story of a multi-lingual man, who was a cultural leader, a social leader , and yes the first tax-paying citizen from the aboriginal community) – and a person of national and international significance. It carries with it a grand quantity of material, couple that with a main-stage context, a white-dominated theatre and this is not an easy project to shape nor present.
Yet, Rankin has found a tone in the text which is factual, yet irreverent, joyful and yet honours the pain of displacement. We see Namatjira repeated displacements – and then experience our own: The script bounces between our social "white" theatre conventions and the conventions of indigenous storytelling, through re-enactment, historical primary sources, imaginings, symbolism and personal creative response by the artists telling Namatjira's story and their own story.
On one hand we are juggling contexts:
Audiences bringing their histories and stories to the production.
The Namatjira family bringing their history to the production.
The artists bringing their story and history to the production.
The production is weighing and balancing and manipulating our response, tapping into multiple contexts.
And on the other we are inserted into multiple places and landscapes:
Namatjira on the mission.
Namatjira in the city.
Namatjira in Australia's Art world.
Namatjira in the World's Art scene.
And the script sits like a sedimentary rock – layers of ideas – layers of form – layers of perspective. We see what a beautiful and difficult thing culture is – it's formation, its erosion.
What we learn is exactly that which we learn from ancient Greek histories (Herodotus & Thucydides) and trashy gossip publications (TMZ and The National Enquirer) – success can be a great artist (or leader's) undoing. (Amy Winehouse, Whitney Houston) We see people crumble under the strain and pressure of the need of others grabbing and taking. We can see in action, how epic success brings epic responsibility. We see how (directly or indirectly) we are responsible for the disintegration of things/culture/ideas/language… and people. BUT at the same time Rankin shows us the possibility of creation/reflection/restoration/interpretation. The healing quality of art.
And whilst watching this production, I was lovingly forced to reflect on Australia's art and culture… about our current relationship with the indigenous peoples of this land, their culture, their history. I asked myself:
What is cultural legacy?
What does an individual person's contribution add up to?
What remains? What is lost?
What is translated/translatable?
What resonnates?
What is unique?
What is important?
What are we, as a culture, left with?
A memory? Family? An original watercolour?
Or perhaps a treasured print from the walls of our grandfather's house?
*****
Please note this show is now on tour –
NEW SOUTH WALES
Riverside Theatres Parramatta, Sydney – 22 – 25 February (Exhibition: The Damien Minton Gallery, 29 Feb – 10 March)
Capitol Theatre, Tamworth, NSW – 28 February
Orange Civic Theatre, NSW – 2 – 3 March
Bathurst Memorial Entertainment Centre, NSW – 7 – 10 March
Civic Precinct Newcastle, NSW – 13 – 14 March (Exhibition: The Lock Up, Newcastle, 2 – 8 March)
Griffith Regional Theatre, NSW – 17 March
Wagga Wagga Civic Theatre, NSW – 21 March
Albury Entertainment Centre, NSW – 24 March
_______________________________________________
VICTORIA
Riverlinks, Westside Performing Arts Centre, Shepparton, VIC – 28 March
Esso BHP Billiton Wellington Entertainment Centre, Sale, VIC 24 April
Frankston Arts Centre, VIC – 27 – 28 April
Arts Centre Warragul, VIC – 1 May
________________________________________________
TASMANIA
Burnie Arts and Function Centre, TAS – 4 April (Exhibition: Burnie Regional Art Gallery, 17 – 22 March)
Theatre North Launceston, TAS – 13 – 14 April
Theatre Royal, Hobart, TAS – 18 – 19 April
_______________________________________________
SOUTH AUSTRALIA
Adelaide Festival Centre, SA – 4 – 12 May (Exhibition: Artspace Gallery, 14 April – 27 May)
_______________________________________________
NORTHERN TERRITORY
Hermannsburg Heritage Precinct, Ntaria, NT – 16 May
Araluan Arts Centre, Alice Springs, NT – 19 May (Exhibition: Talapi Gallery, Alice Springs, Dates TBC)
_______________________________________________
QUEENSLAND
Townsville Civic Theatre, QLD – 23 May
Mackay Entertainment and Convention Centre, QLD – 26 May
Rockhampton Venues and Events, QLD 30 May