One Sure Thing | ATYP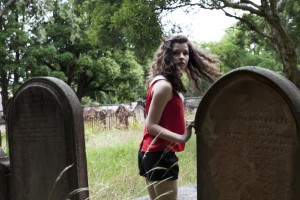 The Australian Theatre For Young People's Fresh Ink Program is one of the most coveted playwriting programs for playwrights who are under 26. The program involves a regular series of meetings and mentorship by some of Australia's most celebrated and experienced playwrights, and for the past two years has resulted in a showcase of monologues in the early part of the following year.
The monologues seem to be perfectly suited to potential HSC drama student's Independent Project (Performance) – fitting in the 5-8 minute running time and conveniently appear in a slickly produced publication by Currency Press under the title of "The Voices Project". This is a welcome gift for many HSC students as they scour books and plays for the perfect piece for their IP.
Directed by Tanya Goldberg, this collection of work is tied together under the banner of "One Sure Thing" – referring to the adage attributed to Benjamin Franklin, 'In this world nothing can be said to be certain, except death and taxes.' The cast (Emma Campbell, Kate Campbell, Lucy Coleman, Charlotte Hazzard, Rhys Keir, Emma Khamis, Patrick Richards, Julia Rorke) are all of comparable ages to the writers – somewhere between late high school to mid-twenties and are dressed in a uniform. They are stage hands, ensemble members and monologists – each in their own right, tackling the difficult and daunting task of solo performance of new work.
The evening starts with Alexandra Macalister-Bills' "La Conversacion" – a phone conversation to a grieving family member back home. Perhaps one of the more problematic of the evening's performances – an overly excited/hurried delivery and an overly inked pen. Phone conversations are tricky for a few reasons – it can trap an actor/restrict them to focusing their energy into an object, not the audience… it also makes us more curious about what we can't hear/see than what we can. As far as story trajectory goes – we know the end will be punctuated with a "hanging up" and so there is little room for surprise – so the content must be riveting.
"The Last Post" by Sarah Gaul, is a one way conversation outside a port-a-loo and is set at a wake. The piece itself shows us some of the difficulties of death in the virtual world of social networking. Again, here we have an implied other "half" of a conversation which is unseen and unheard – and the performer has to communicate through a closed door – not an easy task especially if the subject matter is slightly philosophical, to keep the pace and energy truthful and spontaneous.
A devastating and dark outpouring of grief is next in "Ben Thomas I love You" by Alysha Herrmann. A sister expresses her grief at the death of her brother – it feels very writerly – as though a letter or a poem – but staged as a defence against a ring of bullies – which dilutes and confuses the poetry of the work. I wasn't able to catch the full story here – and still can't quite gasp it. Even so the stilted punctuation and the style of writing beautifully echoes the sound of someone trying to express a thought or feeling, hindered by their own choking throat.
Alice Cooper's "The Circle of Life" is a simple portrait of a brother trying to simply explain to his little brother the death of their mother. In this piece, we have an invisible child-coerced and chided and assisted by the brother. At times very sweet, and honest, Alistair MacIntosh's performance is very raw and casual and finishes on a quick bright end which is then amplified four-fold by members of the ensemble cast who march around in yellow Bob the Builder inspired helmets.
There is a relief that comes with Alexandra Cullen's "Senseless" a sophisticated departure from the literal interpretation of the brief "about death" which turns it's attention to the idea of a death of the senses – becoming deaf. Performed simply and elegantly by Kate Campbell I was fascinated from the first few moments. Cullen seemed to understand and be sensitive to the sound of words, the impact they have on the listener – doubling the tragedy of the idea of hearing loss, through it's own act of expression. I have read and seen much of Cullen's writing – and this piece heralds a new and sophisticated chapter in her writing – nuanced and considered.
Likewise, Carolyn Burn's "Stick" uses its own inherent theatrical positioning to great effect. We are an audience, semi-encircling her – like that at a chronic disease help group. We, the audience are implicated in her address and it strikes home to us. Burns has balanced the writing beautifully. The tragedy of the situation, off-set and hi-lighted by humour and a chavelier sense of humour. The performance by Emma Campbell is confident and clear, she takes her time to digest our silent responses – or her own thoughts.
On a much more sinister note enters Brooke Robinson's "Hunger" – wherein a young kitchen hand (or chef?) find that the secret to his culinary popularity comes at a very high price. I am very familiar with Robinson's writing, and she is always ready with an intense premise and a sense of irrepressible danger – something of a self-harming or dark edge to it – and it is clear that performer Rhys Keir delights in the grit and muscle of her ideas.
Laura Hopkinson's Prince Willy is a clever exploration of childhood boundary pushing. Elsa (Lucy Coleman) is responsible for something she didn't expect whilst decked out in an amazing pink party dress and body glitter. This is probably a little wild dramaturgically, as the story, tone shifts but I kind of like that about it as it is in keeping with the imagination and age of the character… it's a great set up and suspenseful as we will things to go differently for Elsa.
Georgia Symons' work is another one sided conversation – and in this production Michael (Shaun Foley) has a visible co-conspirator who leans against a central pole, his back to the audience. It's a dark and coercive sales pitch a monologue that is a direct request. It's a neat and forceful piece of work, capturing the pace and energy of teenage-speak. What is exciting about this is Symons' ability to include action in her writing and it is this which made me sit forward… a punchy and energetic story, told with relish.
Finally, Emrys Quin's hilarious story of a medicine delivery girl "That's What I am Now" beautifully, brightly performed by Patrick Richards. The monologue as a form of public confessional is exposed in this piece as we delight in watching the list unfurl of all the things Jaz is. Brilliant performance. Brilliant writing, and a fine end to the suit of work.
With the resourcing that ATYP provides these writers, I found it curious that all writers I spoke to on opening night seemed to have not attended rehearsals – present for the first read only and then presented with suggested cuts. The opportunity to have one's work read, performed, directed and refined is always a delight – and flattering to a young playwright – but they should demand to be a part of the creative process in rehearsals.
Besides death and taxes, there are a few other things I absolutely know for certain – if you give a writer a time limit they will write to it (and perhaps a little over) – no-one ever under writes when promised a production… I also know that writers are very social and congenial people. On this occasion I felt that the writing was not put first – the production was. The development of the individual pieces are largely uneven. Many of the writers within this program have a substantial list of credits (residency and courses) making me ponder how substantially their writing technique was developed?
The tricky thing with this as well, is that the performances are also quite uneven – sometimes diluted by "warm bodies" on stage. If the intention is to elevate new/ young writers, more experienced actors would have added a great gravitas and nuance to the work. The power of the monologue is it's initmacy, and I don't think that on this occasion director Tanya Goldberg allowed the power and intensity of audience/performer relationship to speak for itself.
I hope all these bright young minds continue to investigate their own voice and style… I hope the actors continue their curiosity in new work… and I trust that ATYP will continue to develop and refine it's program so that many more of Australia's bright emerging writers can experience the best possible, most respectful and inclusive and inspiring program on offer.