OPPORTUNITY FOR PLAYWRIGHTS: Write Here, Write Now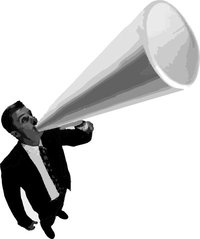 I've said it before, I'll say it again – I love playwrights. I'm always on the lookout for the best new writers and the best new plays. And nothing (as far as I'm concerned) is more exciting or inspiring than working with a playwright on a new work. It's like venturing into unchartered territory, or like hunting for treasure – you just never know what you are going to uncover.
At the moment I am looking for some projects to direct over the next year and so I have developed a project to start developing some ideas and some relationships with writers.
Write Here, Right Now will be encourage a select group of playwrights to write on site, within a finite period of time – this is a hot, ready multi-playwright project for those who love writing to spec, writing in the company of others and who love a deadline. (Or have a "Just do it!" attitude)
If you have any questions or need more information, don't hesitate to send me an email augusta@augustasupple.com … I'd love to hear from you.
Expressions of Interest: Write Here, Write Now
Write Here, Write Now is a dynamic new opportunity for a select group of playwrights seeking to sharpen their writing skills, expand their network and create a new works by "writing on the spot" during a series of workshops.
Headed by new play director/creative producer, Augusta Supple (Brand Spanking New, Stories from the 428, I Contain Multitudes) this is a unique opportunity for writers to explore and develop their writing in a supportive and nurturing environment, with a view of developing work ready for production.
Each fortnight, individual and group exercises will be provided to invigorate and challenge the writers to experiment with form, style and story. They will be provided with dramaturgical feedback and support with the final session dedicated to a small in-house play reading by actors.
Details:
Dates: Mondays (12th & 26th March, 9th April & 23rd April)
Time: 6:30pm – 8:30pm
Venue: Studio 10, Fraser Studios 10-14 Kensington Street, Chippendale
Cost: Free
To submit your expression of interest:
Please provide the following by 6pm on the 7th March to augusta@augustasupple.com:
• Your contact details (Name, mobile number & email address)
• A sample of your writing (2 pages)
• A brief bio (1/2 page)
• A brief response outlining what interests you about this project (1/2 page)
Decisions will be made by Friday the 9th of March to start on Monday 12th March.
More about Augusta:
Augusta has worked as a director, creative producer, curator, dramaturg and writer in both Australia and North America. A passionate new work advocate, she works exclusively on the development, production and promotion of new Australian plays and has directed new work by Australia's leading playwrights including Jonathan Gavin, Kate Mulvany, Ned Manning, Hilary Bell, Tahli Corin, Kit Brookman, Alana Valentine, Vanessa Bates, Brooke Robinson, Patrick Lenton, Tim Spencer, Phil Spencer, Katie Pollock and 7-On Playwrights' collective (Catherine Zimdahl, Donna Abela, Hilary Bell, Ned Manning, Noelle Janaczewska, Vanessa Bates, Verity Laughton)
Augusta has worked in creative and curatorial capacities for several theatre companies in the development and production of new work. She was the inaugural Season Artistic Director of Brand Spanking New (New Theatre, 2008-2010), Program Coordinator Blueprint & Off the Shelf Residencies (Queen St Studio 2009-2010), Creative Producer of Stories From the 428 (Sidetrack Theatre, 2010), Curator of The Boiler Room Series (The Sydney Fringe Festival, 2010) for which she was nominated for a Sydney Fringe Award and programming assistant for The Reginald Season (Seymour Centre, 2012.) She is the resident dramaturg for Shh Centre for Hybrid Arts. Currently, she is on the Board of Directors for Shopfront Contemporary Arts and Performance Centre and sits on the Advisory Board of Kaleidoscope Gallery.
Augusta has written feature articles, commentary and reviews for www.sparkonline.com.au (2009) and www.australianstage.com.au (2007-2011), www.newmatilda.com (2009) and has written regular columns for www.aussietheatre.com.au (2007) and www.artshub.com.au (2007). She has been quoted nationally and internationally on various sites and publications on the status of women in positions of key creative control, issues facing Australian playwrights and the value of independent theatre.