The Bedroom | SUDS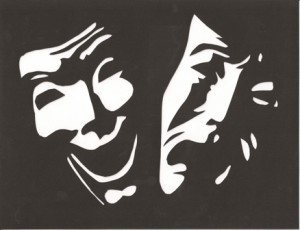 A quiet and modest email lands in my inbox. Unlike the usual "COME SEE MY PLAY" demands of the industry, it's a neat and modest request, that I come to the International premiere of new Australian play. How could I resist?
The email is from the director – Olivia Satchell – a young woman with an impossibly bright smile, bizarre hair and berserk clothes and who has been my right-hand girl/ a colloborator/ theatre date/ friend of mine for nearly two years. Recently she has finished her post as SUDS (Sydney University Dramatic Society) President with all the political manouevering/mess management and selflessness that role demands. I was the first of many speakers she invited to rev-up/chat to the current artists at USYD (followed by Sam Strong and John Bell amongst others). She survived her year as President without directing (something dear to her) and we met for coffee on a monthly basis to chat and scheme.
Her email spoke of the writer. Not of herself. Of story and the writer. How could I resist?
So amid the post-Sydney Festival settling of my life, I made my way to The Cellar – where 13 years ago I was creating pop-art productions of classic texts with chicken wire and Edith Piaf soundtracks (yes I chuckle and wince to see how different I am now). I stand outside as cool-kids with their Melbourne inspired haircuts and their thick paged books, sit and cultivate infant beards… or the sassy red-lipsticked women hold court over something fascinating they've just read/seen/heard about/written. It is comforting to note that as far as the SUDS crowd goes – nothing has changed.
The program pamphlet mentions the inspiration of the writing of this play by Phil Roser – the throwing down of a gauntlett to his Professor who claimed that plays where people spend the majority of their time sitting down are boring. (Clearly a Professor who is not a fan of Beckett's Happy Days). Oh how we love a gauntlett toss! How we love art that pushes against what is, more than it snuggles up into homage!
The blurb goes:
"The Bedroom gives us the hour in bed before the lights go out. Man and Wife are just past the cusp of middle age. This is not high drama. Knitting and the turning of a page count as action. But then someone is at the door and this quiet world vanishes amidst accusations, confessions and then devastating silence."
Here we have the ambition of keeping it simple – one location, two characters.
In forty-five minutes we track the quiet comfort (and tedium) of a relationship pre-sleep. A gentle and familiar push and pull between two genders and two personalities: wife and husband (Leni Schumacher and Luke Martin). The story goes from the practical into the romantic, the psychological and philsophical – all favoured with the cheeky smirk of a bright young writer. Moments of humour satisfy and sustain. But as with everything there is a breaking point.
And here we see the muscle in these makers – this is not pure hysteria, but quiet hurt, focused pain and territorialism. Not over stated. Not pushed. Not forced. The line work by Roser is fun and familiar, the story a little lumpy across several premise points. Would $5000 really be a breaking point especially if we aren't savvy to the financial stress/previous financial stress within the relationship? How new is this relationship? Where is his fear of losing her? Where is her true threat of leaving him? More development is needed on this play – but it is on par with many new plays as far as quality.
Roser's tone is reminiscent to early Buzo – and his is a voice that deserves encouragement and development.
Congratulations to Liv, Eleni, Luke and Phil for having the bravery to throw down the gauntlett. We need you to. Thank you for your work and I look forward to seeing more.
(PS if you are curious I think tonight is the closing night../ Performances from 8pm. The Cellar Theatre /Ticket prices: $2-$5/ More info? Email sudspublicity@hotmail.com )