Calling out to artists interested in… A View From Moving Windows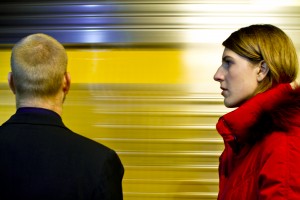 So often independent shows are put together through quiet coffee dates or in the corners of a foyer through established networks. I like to build a creative team around a project mixing together artists I know (and have worked with previously) and inviting artists to express their interests in a project. I like to throw open the possibilities and meet new people. For me building teams of artists and developing new connections and discovering new talent is one of the great joys of working in theatre.
For my next project I have invited nine playwrights to write what they will inspired by a train journey from Central to Parramatta. Yes, I will set some parameters, but essentially I have guaranteed these writers a production, sight unseen – because I believe in their work. In gathering these writers together I have approached some new writers and some established writers all from a range of backgrounds this is essential as the portrait I am hoping to create is representative of a board cross section of voices.
I have been working on new writing festivals and multi-playwright projects since early 2007 – and for me it's a really a wonderful way to work. I love the contrasting textures and tones, I love the wide-reaching topics and characters, I love the way playwrights work together. Additionally I believe in strength in difference – and offering multiple voices to explore multiple topics.
Though I have engaged the writers, a composer and a lighting designer, this post is to invite actors, and artists to express interest in working on this project… which may result in an audition or a coffee date or a collaboration, if not on this project but on a project sometime, some where.
The Blurb goes like this:
A View From Moving Windows is a new multi-playwright project headed by director Augusta Supple (Brand Spanking New, Stories from the 428, Write Here Write Now) which contains scenes, fragments and playlets by some of Australia's best loved playwrights. Created specifically for Riverside Theatre's True West Season, this is a unique portrait of Parramatta, like you've never seen it before.
The show is to be written and developed from late July through to August 2012.
The team so far:
Playwrights: Donna Abela, Jessica Bellamy, Vanessa Bates, Timothy Daly, John AD Fraser, Noelle Janaczewska, Teik-Kim Pok, Emrys Quin, Alison Rooke
Director: Augusta Supple
Composer: Michal Imielski
Lighting designer: Sian James-Holland
Information for actors:
It hasn't been written yet… so I can't tell you of how many roles there are on offer. I can tell you nothing.
But if you are keen to audition/be approached/ read a role (once its been written), please email me at augusta@augustasupple.com with your head shot, a CV and a brief note (up to 200 words) of why you are attracted to this project.
Auditions will take place available 23rd, 25th, 30th August and 1st September at The Arts Platform and The Riverside theatres (exact times/dates/locations to be confirmed.)
Rehearsals: (part time) 24th September- 13th October.
Production Dates:
Bump in: 15th October 2012
Tech: 16th October 2012
Dress: 17th October 2012
Preview: 18th October 2012
Opening Performance: 19th October 2012
Performances: 20th, 24, 25, 26, 27th October 2012
Information for creatives and crew:
I'm always keen to meet designers, stage managers, video artists, carpenters, production managers, producers, publicists…
I'm also keen to hear from aspiring artists keen to come and be an active participant as an Assistant stage manager or assistant director, production assistant, design assistant… and I can guarantee you'll meet some great people, inspiring artists and you'll contribute to a unique and fascinating show.
But if you are keen to work on this project in some capacity (and you are available on the dates I've listed above) please email me at augusta@augustasupple.com with your a CV and area of interest and a brief note (up to 200 words) of why you are attracted to this project. And we can make a time for me to buy you coffee and meet you.
It's as simple as that.
Expressions of Interest close 5pm, 9th August 2012