Half World | Matriark Art Theatre & 107 Projects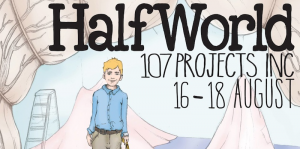 There are moments in my theatre going which feel like shooting stars. Those very quick and wonderful moments where we feel like swiveling your head around and saying "Wow! Did anyone else just see that?" And sometimes the answer is a "resounding YES!" (as in the case of Sam Strong's Speaking in Tongues) and sometimes the answer is "What? No. I must have missed it." But the fact remains that when you experience that moment of catching a shooting star – or a piece of work – you feel happy for the fact that your faith is restored in shooting stars.
Half World was one such occurance.
With only 5 performances over 3 days, this new play by Robert Den Engelsman had a very tender and gentle introduction into the arts world… nearly as gentle as the soft pastle graphic that announces it. At the 107 Projects in Redfern (and with a seating capacity of approximately 45) this show played to friends and friends of friends and friends of friends of friends creating a sellout season.
The premise is quite simple the story very classical in structure:
"Mr Boy has lost his twin brother. Pursued by "Them", he sets off on a quest to find him with the aid of new friends and in the face of inescapable opposition. The audience walks into a humongous blanket fort where Mr Boy's imagination has free reign: mythical creatures come to life, legendary figures duel using blankets as this makeshift fort transforms into an interplanetary landscape, dotted with stars. All the while an unknown terror haunts the walls outside the safety of the blankets."
The presentation of this work is in a huge hoisted cubby house made of blankets- and on Sunday Matinee as the audience shuffled in – some children, some not-so- children – we were each handed a blanket for the adventure.
Imaginatively realised by designer Aleisa Jelbart and director Scott Parker, Half World is as much an exploration of courage, of facing oneself and one's future alone as it is a cheeky reminder to keep imagination engaged and adventure fresh on one's To-Do list.
With child actor Josh Hampson leading the charge amongst a forest of bright, funny, fun, attractive, whimsical, cheeky, playful and energetic 20-somethings romping about with piano accordians, puppets, silly safety goggles, philosophical whimsy and a bucket load of truth bombs and giggle knee-slapping jokes. It is rollicking fun to watch this ensemble: Scott Parker, Robert Den Engelsman, Emily McGowan, Thomas Albert, Gabriel McCarthy, Michelle Ryan, Giulia Corradi have their foibles, insecurities and objectives revealed. (and I must say this is the first time in a show that a sheep stole my heart!)
The show's adventurous spirit is compelling – feels like if Where the Wild Things Are met Monty Python and then watched The Labyrinth just the right amount of times. And it also feels like a warm blanketed hug on a rainy night. The aesthetic (design) is friendly, fun and impressive – without being garish or patronizing.
Strangely this is advertised as a development – but the show itself is 95% there and the script is 90% there… so there is no need for Matriark to be so coy about its first work! This is such a great show! (The missing 10% of the script development is a few moments towards the last 8 minutes of the play: where I must ask is the final transformation or decision made that Mr Boy has to make? The missing 5% production element is the last "blanket drop" moment by the cast… but these are such small quibbles that hardly deserve mentioning. I must however applaud the guidance of Timothy Daly – who no doubt nurtured and inspired the structure (Daly is one of Australia's keenest play-structuralists and worthy of admiration and note!) and also to PACT for offering a residency for this work to be developed in.
I really hope that this show gets another chance to be presented – the run too short. I thing this would be perfect for the festival circuit (and I'm not referring to the fringe circuit).
More details about these artists can be found here: http://www.matriarkarttheatre.com/