The Defence | PACT & Sydney Fringe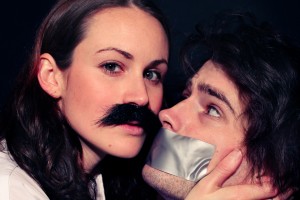 I just need to get this out of my system right now. And I do have a system. A system of thinking, of speaking, writing, digesting – a system of being in the world and seeing the world, interpreting the world and oftentimes shaking my tiny fists at the world. I am in many ways, a squirming audience member – often shifting in my seat because of opportunities missed or larger symbolic cultural gestures squandered in favour of "fashion" or perhaps a desire to ingratiate oneself to the all seeing all knowing "other" (that is whomever the artist thinks is seeing their work.)
Tonight I wasn't shifting about in my seat due to boredom or frustration. Tonight I squirmed in my layered petticoats… laughed at the horror and delicate construction of one of the most revealing and intense and perfect portraits of misogyny. EVER.
In the post weekend flush of the Australian election… also in the foamy, soapy post swell of a Belvoir Miss Julie (by Simon Stone, after Stringberg) opening night – I was nothing but in awe and delighted horror at the perfection of Chris Dunstan's show "The Defence." Anyone who has seen Miss Julie at Belvoir, NEEDS to see this production. This is the perfect portrait that unravels everything in the biographical world of Stringberg – the cultural stagnancy of the current political climate – in the very poltics of Australian theatre making – and – most importantly – the world at large.
August Strindberg's open articulation of his own misogyny – and the treatment of his wife – coupled with a draw towards ambitious and independent women: is an inherent conflict. As it seems to be with relationships I've seen play themselves out – sometimes the thing that attracts is often the the thing that is compromised or destroyed in the act of acquisition. Just as with the curiosity of gender difference can devolve into a sour war of contempt.
I really don't think you should read much about the plot, narrative or elements of this production: all you need to know is you must see it. It is uncomfortable, clever and just the right amount of "raw", "gritty", "truthful", "safe" and "focused on the art." What is happening here under Dunstan's study eye, ear and hand is far, FAR , FAR more sophisticated an exploration of the concerns and ideas within Stringberg's work. This is a very astute, ever surprising and very self-referential Brechtian piece of theatre – in all the best ways. Co-written by Chris Dunstan with Matt Abotomey and Catherine McNamara and directed by Chris Dunstan – this is an impressive, sophisiticated piece of thinking about theatre, politics, history, gender politics, sex, violence, power. It is important to read this work as it is presented: to be mindful of framing and placement of audience. The placement of Stringberg. The placement of hierarchy. The placement of gender. The placement of theatrical conceit. The placement of symbol. The placement of reference.
This is not a production which is about "acting." This is a production about structure, politics, power. And a perfect complement to those who have in recent months had their thinking influenced by seeing productions wrestling these ideas: namely Sydney Theatre Company's production of Jean Genet's The Maids… or the aforementioned Belvoir production of Simon Stone's version of Strindberg's Miss Julie. See this to extend and shape your thinking – see this to read the world differently.

http://www.pact.net.au/2013/08/the-defence/
DATES
Wednesday 4 September 2013, 8.00pm
Thursday 5 September 2013, 8.00pm
Friday 6 September 2013, 7.30pm
Saturday 7 September 2013, 7.30pm
Wednesday 11 September 2013, 8.00pm
Thursday 12 September 2013, 8.00pm
Friday 13 September 2013, 7.30pm
Saturday 14 September 2013, 7.30pm
TICKETS
$25 Full / $20 Concession / $15 Members
Ticketing Enquiries: Sydney Fringe Box Office 9020 6980
Show Duration: 60 mins
SHOW WARNINGS
Strong coarse language, nudity and smoke effects. Not recommended for children under the age of 16
PRODUCTION CREDITS
Director – Chris Dunstan
Writers – Chris Dunstan with Matt Abotomey and Catherine McNamara
Performers – Brett Johnson, Catherine McNamara and Douglas Niebling
Producers – Chris Dunstan and Alex Francis
Production Manager – Kevin Ng
Artistic Consultant – Christopher Ryan