Waiting for Godot | Sydney Theatre Company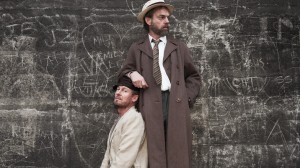 It took me some time to write about "The Godot" currently playing at the Sydney Theatre, produced by the Sydney Theatre Company. I knew that the delighted opening night foyer, the thunderous applause and the casting of two of Australia's most accomplished celebrity theatre actors in the lead roles of Di-di and Go-go was a recipe for success. The desire to peck out a rapid-fire review was diminished: after all this play is about Waiting. Ruminating.
So I thought I'd follow its lead.
This is my fourth Godot.
I'm 34. I think there might be another 3 Godots to be seen in my lifetime. Perhaps when Toby Schmitz or Ewen Leslie find their whiskers greying and their middle-aged bellies paunching. (tres impossible!) But at the moment, I head the warning of the plays that keep popping up in my life – a kind of artistic/philosophical guidance that whispers "be careful what you wait for…" I must pay attention to it.
Godot 1.
Sydney University Dramatic Society (1998)
I walked out. It is one of the few plays/productions/presentations I have ever walked out of.
At the time I was an angry young woman (ask my classmates of those Halcyon days!) who's temper was especially short before lunchtimes. It was a hot, languid day. Sitting in the dark cave of the Cellar Theatre. I was hungry. I stayed for Lucky's speech – which was beautiful and possibly the best I've ever seen performed – and then left. I was alter told that me walking out was Beckett's intent and I had played STRAIGHT into his clammy irish hands!
Godot 2
New Theatre's production directed by Luke Rogers. I think this was in 2010? A very clear and visually crisp production. I recall Martin Kinnane's lighting design being especially impressive. I had forgotten how obsessed with the prostate Beckett is in this play, until I saw this production.
Godot 3
The Godot that is known as "The Sir Ian McKellen Production." Circa 2010. A grand affair. At the Sydney Opera House. I attended with Mr James Waites who loves this play (he claims it is his favourite play!) not just for its punning resonance. It was one of those light misty rain umbrella days. The theatre was warm. It was a dim-lit monochromal design. People gently snoozed through it. I sat alert and upright, not wanting to miss Mckellen. I was frightened of Pozzo, I remember that. It was a study of the vaudevillian Godot – of age and stamina.
Godot 4.
Something felt playful and open about this Godot. I loved the little carrots nibbled in the show. I loved the big arcing angle of Pozzo's entrance. And you can read more below.
I know James Waites in particular loved this Godot. I know many people will and do.
The interesting thing with all ancient or classic texts – texts that have survived criticsm over a period of time and swathes of thinking – is that I sometimes stop examining the text. Lately – more than ever – I've started reading new productions of old plays with the same critical ear as that of a new play – not to assume it's earned its literary stripes but to make sure the stripes aren't fading under the harsh glare of time's light and attention. Godot still is a rule breaking, audience provoking text. Though I can't help but wonder if the diamond encrusted wrists clapping at the STC are clapping more the grand spectacle of celebrity, than the genius of writing at work?
This review was written for www.australianstage.com.au
A dark open mouth of a proscenium arch, hemmed with a moustache of broken, missing or faded light bulbs. A thin, endless branch arcs into the sky. Grey, brick-worked waste land. Two men, like tattered coats upon a sticks, wait.
Samuel Beckett's Waiting for Godot is perhaps one of the most intriguing examples of innovative playwriting of its time. Here, across the sea and across time, and culture and all the other identity defining hallmarks of art, Waiting for Godot finds itself at The Sydney Theatre, still waiting.
The premise is simple. Two men, Vladimir (Hugo Weaving) and Estragon (Richard Roxburgh) wait on a country road for Mr Godot. During this time their waiting is interrupted by minor squabbles, the desire to quell hunger, attempts to remember, attempts to reassure, attempts to entertain each other – attempts to test each other's commitment to each one another, game playing, recitations, singing, a man with a whip known as Pozzo (Philip Quast) and his pale male servant Lucky (Luke Mullins), attempts to remember why and how they came there… an attempt to piece together a plan or a story or a history.
The experience of this play, as opposed to the reading of this play, one of the most meta-theatrical, self-aware acts of popular art. The audience, like Didi and Gogo, wait for something to happen, wait for someone else to decide their fate… and whilst waiting their time (and ours) is filled with actions and words. It is an ache of anticipation experienced by both characters and audience in real time.
And so to watch as these men at the mercy of another, as we are at the mercy of them – sitting as we do in the darkness, watching.
Weaving's Vladimir is upright, articulate and grand in his broadness. Roxburgh's Estragon is a small aching poet, finely sketched and crumpled. Mullin's Lucky is filled with ghostly agony, red raw urgency and a vicious streak. And it is Quast as Pozzo who fills the stage with a mighty and impressive voice – the central sun around which Didi and Gogo orbit. It is in this Waiting for Godot we see the wide reaching universality of oppression, the surrender of control – the desire for control and to be controlled, the need for direction and for the obedience of others – for the complicity in the shape of our own destinies.
Director Andrew Upton has shaped a playful and fluid Waiting for Godot, assisted by Associate director Anna Lengyel. This play "written by an Irishman in France, in a production conceived by a Hungarian by directed by an Australian" has a distinctly universal feel – as absurdist theatre is designed to have. We are the everyman in the everywhere, feeling the weight of the nothingness.
Nick Schlieper's lighting design melts the hard corners and angles of the set – the human shapes amongst the industrial rubble are warm. Subtle thrumming of sound by Max Lyandvert supports, but does not instruct nor obstruct the scene – instead it's like the softest watercolour blue fading into white. All in all a symphony of design at work – costumes (Alice Babidge) slide neatly into the set (Zsolt Khell) and we watch. And wait.
There is pleasure in this waiting. Pleasure found in wildly spoken recitation, in the deep, round vowels of Philip Quast's undeniable velvet voice. Pleasure in the familiar and complementary pairing of our dearly beloved Roxburgh and Weaving. Pleasure in all the moments to be found and paced with such loving care, by a caring directorial eye. Too easily Waiting for Godot can be a steely criticism on aging, on power, on pettiness – and in Upton's production we feel as much as we think.
A rare balance is struck.
There is pleasure in the pain of waiting. Of speaking. Of deciding to relinquish all. Beautiful. Horrible. A terrible beauty has been born.
Sydney Theatre Company presents
WAITING FOR GODOT
by Samuel Beckett
Director Andrew Upton
Venue: Sydney Theatre, 22 Hickson Road, Walsh Bay
Dates: 12 November – 21 December 2013
Tickets: $55 – $105
Bookings: 02 9250 1777 | sydneytheatre.com.au