That year. You know the one. 2013. In pictures…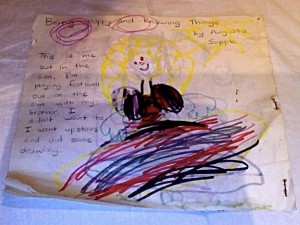 Some things are worth unearthing and digitizing…
Thought I'd share with you some of my very early writings – this is a book I wrote and illustrated when I was four or five (my sister who is four years younger is illustrated as a baby). It's called "Being Happy and Knowing Things" by Augusta Supple. It's full of enduring wisdom and hilarity – which I hope I still possess today.
"This is me out in the sun. I'm playing football out in the sun with my brother. I didn't want to. I went upstairs and did some drawing."
(The meaning here is that it's important to free yourself from obligations and to follow your bliss. It's true that indoor art making will always win my attention over playing sport outside.)
***
2013 was a really weird year.
After a decidedly confusing, ugly yet rapid-growth, confrontingly heartbreaking yet productive 2012…. 2013 was a year of stumbles as I've tried to sort out a few things personally , professionally.
I thought I'd condense my career highlights into one post to mark 2014 and so I can get on with the business of blogging once more…
So please forgive the laziness of primarilly focusing on pictures… I'm currently on deadline for a bunch of things – a new children's musical, some Sydney Festival reviews… letters to loved ones, you know how it goes…
And of course there was plenty of crap in 2013. I had some pretty disappointing moments – but here I focus on the highlights… because I am ever hopeful. Highlights include:
Starting off the year accompanying Mr James Waites to La Boheme at Sydney Opera House…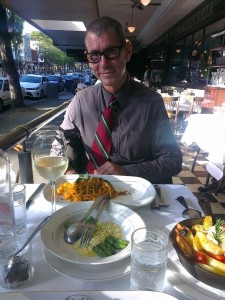 Seeing Tripod:Men of Substance with #BestFriendChris…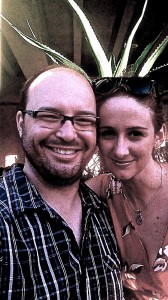 Meeting the Governor General twice – once at CPAC…
and another time at her house… here's proof of me being very excited with the remarkable/loveable Debbie Spillane…
Heading the Mayday Playwrights Festival with the ever-charming/energetic Jeremy Waters…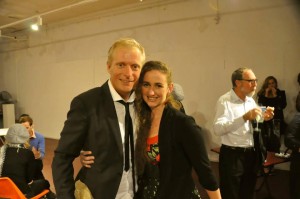 Appearing in the Daily Telegraph – being cheeky about Australian writing…
Appearing with bad posture (and excellent artists) on the front page of CityHub…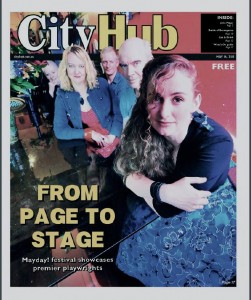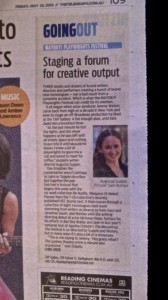 Directing work by 7-On…
Look – it's Hilary Bell and Noelle Janaczewska… (and that's Nicholas Hope – he's not in 7-On but he's lovely)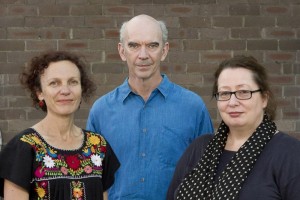 And look! It's Donna Abela (standing with actor Suz Mawer)
Directing work by David Finnigan starring Alex Bryant Smith…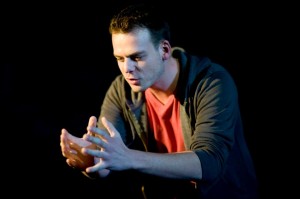 Directing work by Jonathan Gavin starring Matthew Charleston…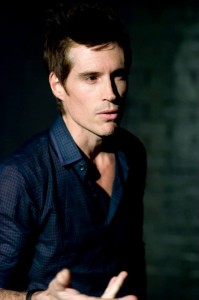 and giving an interviewer on ABC radio a bit of hell about playwriting:
Gave the opening speech for Tim Andrew's exhibition Time Work at A-M Gallery – as a big fan of Tim's it was my first ever public talk on his work…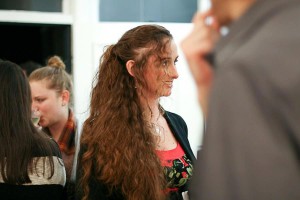 Traveled to Canberra to live-tweet and blog the 2013 Australian Theatre Forum with my beloved Blog-sister Jane Howard… Here's a before and after shot of us…
Before: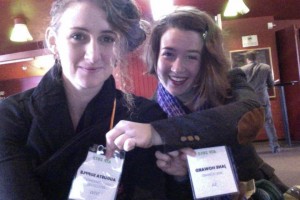 After: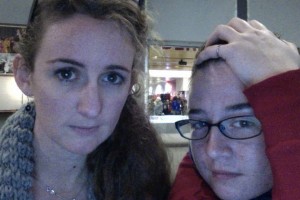 …and a residual/reflective talk at Griffin Theatre Company in which I was quoted…

Appearing on the front page of The Spectrum in the hope of inspiring some burgeoning philanthropists –
…Then developing, producing and directing a multi-playwright project about solo living in Sydney: Singled Out –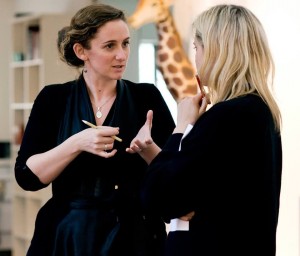 Look at all the attractive actors!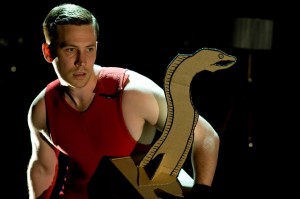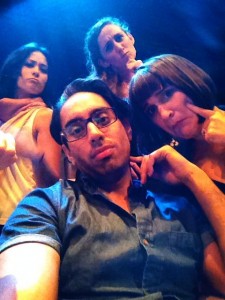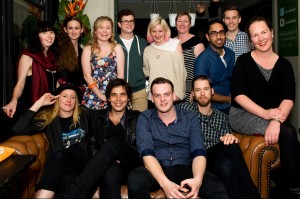 And after directing her in Singled Out I took one of my favourite women, Kate Fitzpatrick, to the theatre… this is a particularly terrible picture of me… She looks great so do the boys!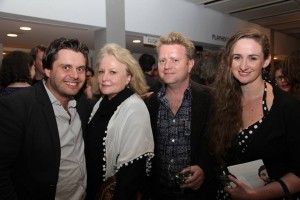 I created a bit of trouble on the Internet when FilmInk neglected to mention some of Australia's biggest power players in the film industry are women:
Alison Croggon's Storify: http://storify.com/alisoncroggon/filminism-the-extended-dvd

Jane Howard's Storify:
http://storify.com/noplain/filmink-magazine
Being honoured by two portraits by two artists I respect… one by a 9 year old girl: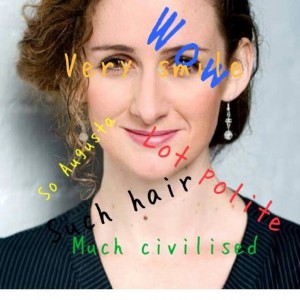 …Another by the breath-taking Emma Magenta: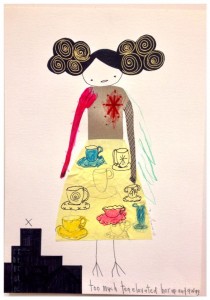 And of course, keeping things on course and chugging along at Casula Powerhouse Arts Centre… which in 2013 was a very interesting year…
Sydney Weekender anyone?
Protest to protect the arts centre anyone?
Save Casula Powerhouse Arts Centre and let the Bellbirds Sing from David Kirkpatrick on Vimeo.
And of course I also did my fair share of show seeing (about 150 shows last year)… and reviewing for australianstage.com…
And I continued my work with Shopfront as Board Secretary…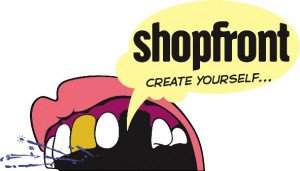 (And I spoke at the Creative Leadership Symposium for Board Connect… about love and compassion in leadership that's me sitting int he window…) http://boardconnect.com.au/services/recentevents/386-creative-leadership-symposium-sydney.html

I taught critical analysis and theatre ecology at NIDA to some bright young women…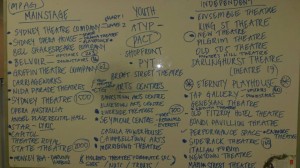 And I spent some really wonderful Sundays with my dear friend and colleague in arms, Mr James Waites…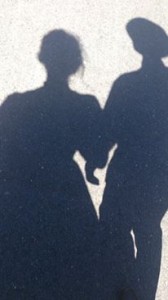 I read a lot of plays..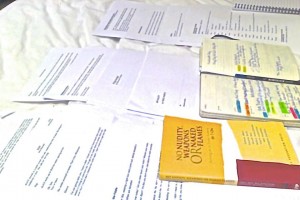 And of course there were many big conversations with Australia's most beautiful, inquisitive, experienced, passionate, brilliant, stubborn, wise, incredible artists… and I'm feeling rather smug about how excellent and accomplished my colleagues are, what nice people I have in my life… what quality people there are that I keep company with…
Look it's Mr James Waites and Best Friend Sally!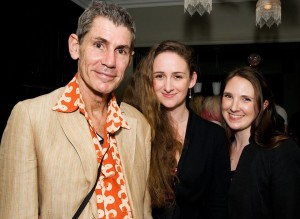 I'm honoured to be amongst it anyway I can be. I'm grateful.
And I'm excited about our year ahead…