The Shadow King | Malthouse Theatre & Sydney Festival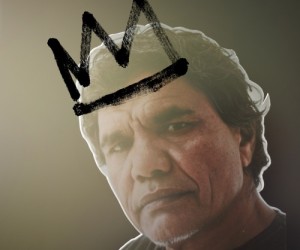 I really can't think of anything I'd rather not do, besides sit in the dark for many many many hours whilst listening to yet another Shakespearean play get a good "going over" by a company primarily focused on the design in order to create a heavy "universality" statement about the human condition. Thank goodness The Shadow King IS NOT THAT!
Instead what we are greeted with is one of the most culturally significant translations and adaptations of our time.
With ownership and permission laying firmly in the hands of the cast's elders, Shakespeares story is transformed and translated from Northern Australia to metropolitan centres (previously included in the Melbourne Festival – I had the honour at the Sydney Festival.) With the protocols and processes in place – in regards to cultural practice, representation, use of object – I am in awe and endlessly impressed by the rigor and consideration of message, of story of consultation within the development phase and rehearsal process of this production.
Sometimes I feel particularly overwhelmed by the cultural imperialism we experience on an everyday basis – the subliminal and the celebrated berrate in equal measure. I know that there is a push for globalised everything – but I fear the momentum of cultural imperialism will crush any unique, diverse and alternative presentations of ideas, religions and representation. And I feel overwhelmed. I'm not living in Northern Australia. I do not identify as an Indigenous Australian. I have not had my language, my land, my cultural practices taken from me. My response to such a threat is to fight the obvious aggressive fight. And yet look at this production!
Look! See how the example has been set – to reclaim language. To assert aesthetic. To tell story with and of community. To be conscious of each other, of the message, of the politics and the social structures! What an incredible example of true artistic leadership.
I'm in awe. And grateful.
How can I do anything but sit back and watch, listen to the example set before us – of how to reclaim culture in a real way. An honest way.
Please see this show if you can.
Written for www.australianstage.com.au

Like that of a smashed hourglass, the stage is covered in a large stretch of red earth, scored with lines of land and water. Time and place has been reconfigured: no longer the early years of the 1600s in England, instead a very current portrait of a community in Northern Australia. It is here, in this rust and metal reality that the story of King Lear has been translated and transposed.
The result of a conversation between director Michael Kantor and Tom E Lewis, The Shadow King is an adaptation and translation of William Shakespeare's King Lear which draws into sharp focus notions of family, power, influence and loyalty within the indigenous community. Honouring cultural protocols, objects, songs and representation of cultural identity have been authorised by the Elders of the cast and crew.
The Shadow King tells the story of King Lear who, in a flight of foolish fancy, decides he is sick of living under white man rule decides to retire to live an easy life and divides up his kingdom based upon the of this daughters (Rarriwuy Hick – Cordelia, Jada Alberts – Goneril and Natasha Wanganeen – Regan). His youngest daughter Cordelia resists entering into competition via a verbal gush of platitudes offered by her sisters. Traveling from house to house with his mob, Lear is soon unwelcome and displaced. In his place we see the hungry ambition of Edmund (Jimi Bani) surface – who orchestrates the framing of his brother murder, seduces and then rapes both Goneril and Regan. The world is rendered unjust and brutal – and the tragedy compounds when Gloucester (Frances Djulibing) is blinded and Lear and Cordelia are locked away in a dirty prison cell.
This is not Shakespeare's King Lear, nor does it have to be. Nor is the intent to transfer Shakespearean English into the mouths of Indigenous Australians. This is a "white man dreaming" which has been commandeered through aesthetic, tradition and languages into a new story. A story where in the "kingdom" is transposed into a harsh reality – carports stuffed with clutter, a weatherboard house in the outback. A story wherein the courtiers are a mob of musicians. A story wherein the images of exile and gaol are far harsher – due to geography and a social resonance we can't escape nor deny.
Here we have the Northern Australian experience – The blinding lights (Paul Jackson) from a truck. A blend of English, Kriol and Yolngu Matha (Translated by the cast – Jada Alberts, Jimi Bani, Frances Djulibing, Rarriwuy Hick, Damion Hunter, Kamahi Djordon King, Tom E Lewis, Djakapurra Munyarryun, Natasha Wanganeen). Film images (Natasha Gadd, Rhys Graham, Murray Lui) of houses and land and light. Music which forms and informs the story as soundtrack, as anthems (Music Consultant – Iain Grandage, Musical Arrangements and Direction John Rodgers, Band – Selwyn Burns, Bart Willoughby, Djakapurra Munyarryun) – an experience which for many metropolitan –based Australians is as strange and unfamiliar as Shakespeare's England. The experience is at once irreverent, welcoming, brutal and confronting.
This is as much a production which serves to remind us about our connection to land and place and community, as it is about the tragic flaw within humans to satisfy their greed and vanity. The Shadow King is an incredible testament to a vision which seeks to break open and subvert cultural and theatrical assumptions through scale, through premise, thorough the integrity of community consultation.
Truly this is a landmark production which not only offers a fresh, local linguistic perspective on a well worn and transplanted classic – but paves the way for a new dialogue about authorship and storytelling.