A Hunger Suite | Clockfire Theatre Company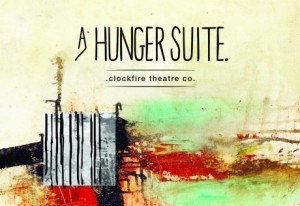 As a teenage girl, Kafka's A Hunger Artist was a story I read and re-read. This would only seem strange, I suppose, if it was true that Teenagers are NOT the most philosophical (and existentially angsty) humans on earth… and if I didn't grow up in a small town which I despised for being small and a town. Reading was a consolation. Reading Kafka even more so. I could have spent a lot more of my time flirting with and then dodging teenage pregnancy, but instead I was reading A Hunger Artist, and thinking about the tragic cruel truth behind Kafka's portrait of the fickle, skeptical general public. If you wasted your childhood in more interesting/sexy ways, perhaps you'd like to read the story here: https://records.viu.ca/~Johnstoi/kafka/hungerartist.htm
(Though NOT reading it will in no way prevent your curiosity in Clockfire Theatre Company's latest offering: A Hunger Suite)
The story is summarized thus:

"The protagonist, a hunger artist who experiences the decline in appreciation of his craft, is an archetypical creation of Kafka: an individual marginalized and victimized by society at large."
Taking this story as a departure point, Clockfire Theatre Company has investigated and re-presented the notion of the rejected artist in a surprising way – a series of scenes, images and chapters brimming with effort, with desperation, with humour and charm which captures attention and wears out its welcome into an absurd spiral of fatigue and pathos: a desperate hunt for validation, for attention or recognition.
Presented in the Old 505 Theatre – in my opinion, the venue in Sydney currently boasting the most exciting, innovative, interesting and challenging independent program – I was lucky enough to witness the first draft of this work in 2012, a bizarre and surprising patchwork. This was a draft before director Russell Cheek offered his eye, intellect and aesthetic to the project… before a composer and musician Ben Pierpoint gave breath to a bouncing bassoon… before a residency in Istanbul solidified and clarified the story, the feeling, the overarching look and feel of the production.
The result is not so much a linear story – after all this work is about performance, not about literature – it is about sensation. Using the audience as implied antagonists, the story reaches into the audience to fatigue us, to ask us to be fascinated, then bored, then disengaged. The effort which is squeezed out of the performers takes us on a parallel journey into the narrative. Performed & created by Emily Ayoub & Mine Cerci, through out the course of the evening we are directly spoken to, profusely thanked, tap danced at, asked to accept the transformation of person into horse, into limbless Cartesian horror. It's strange, strange making and surprising. Echoing afterwards is the residual poignancy of the performer… discarded by the public. Forgotten. Useless. Rubbish.
This is difficult, beautiful performance. Abstract, beguiling and hilarious.
And if you see it, you'll know I am right.
If you don't go see it, it means Kafka was right.
Either way, I'm satisfied.
A Hunger Suite
Presented by Clockfire Theatre Company
http://www.clockfiretheatre.com/#!a-hunger-suite/cc5y
Performed & created by Emily Ayoub & Mine Cerci
Directed by Russell Cheek
Music by Ben Pierpoint
Old 505 Theatre, 505/342 Elizabeth St, Surry Hills
7-25th May 2014
Times: 8pm Wed-Sat, 7pm Sun
Doors: open 1/2 hour prior to performance start time
Tickets: $28/$18