Eight Gigabytes of Hardcore Pornography | Griffin Theatre Company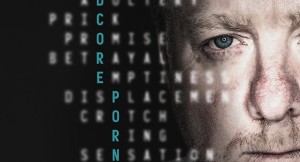 Shag pile, shag pile everywhere – even climbing up the walls.
And just as well, too. I need somewhere soft to lean into, while sitting in the dark breathing in the words of Declan Greene's Max Afford Playwright's Award winning play premiering at Griffin Theatre Company – the provocatively titled "Eight Gigabytes of Hardcore Pornography."
The Internet.
The latest in a string of many human lead historic revolutions – following the mechanical and the sexual – to improve and yet collapse the world as we knew it in the same moment. A place where Avenue Q exclaimed (and we've been chanting ever since) "The Internet is for Porn."
It has be come the most powerful double edged sword for priviledged societies – presenting both democratization of information and prevalence of bullying, access and anonymity for individuals to provide, explore or share all corners of one's thinking, personality, opinion, persona. The internet has made us clever quick at finding answers and yet lazy in our research and recall. The internet has provided a place for people to lance their emotional boils in chat rooms, in comments on social media sites. It has created a mighty swirling archive of grand human endeavour, curiosity and pettiness. The Internet has opened up a flood of thinking – good, bad and ugly- from across the globe (except maybe China) and has encouraged people to actively participate in its creation, maintenance and curation. It has made readily available some of the most astonishing moments of human interaction, linguistic disintegration/creation and crowd thinking…
The Internet is a huge, wild, restless Leviathan which saves and destroys with each key stroke.
The Internet is, really, in essence, the harnessing of human kind in all shades of emotion, thought and action.
That is what makes it so terrifying.
What makes it so terrifying is that we make the content and the content is shaping us… No doubt you've seen Gary Turk's call to "Look Up"?
Declan Greene's play is a portrait of the resulting effects of the internet: where there is access open to compulsive spending and obsessive lust…
The blurb goes like this:
"They met online. She's a nurse in her forties, brats for kids, trapped in a loop of catastrophic debt. He's in IT, miserably married and trapped in his own loop of nightly porn-trawling. Both of them crave something else – but not necessarily each other.
Take the plunge into the Too-Much-Information Age. Funny and fiercely written, Eight Gigabytes of Hardcore Pornography is a deceptively compassionate cringe-comedy of mid-life loneliness, hidden zip folders and barely concealed desperation."
Declan Greene's Eight Gigabytes of Hardcore Pornography is a brutal spectacle exposing extreme human gluttony as a defense mechanism against disconnection, loneliness and frailty.
Here he exposes all too familiar shame and guilt and impotence of modern life – the secrets we keep that gnaw and erode.
Life full of compulsive spluttering lust and urgent frivolous material acquisition.
And it left me reeling in a car crash hypnosis…
In an interview conducted by Elissa Blake the headline states "Playwright Declan Greene says Eight Gigabytes of Hardcore Pornography isn't repulsive."
And I would agree by adding…"Eight Gigabytes of Hardcore Pornography isn't repulsive any more than the uttering of a painful truth or the revelation of shame or trembling lost vulnerability is."
Read more: http://www.smh.com.au/entertainment/theatre/playwright-declan-greene-says-eight-gigabytes-of-hardcore-pornography-isnt-repulsive-20140501-37iji.html#ixzz312DvNfAI
Ideas expressed through the flesh of two actors, Steve Rodgers and Andrea Gibbs, the direct address places the audience as possible love interest, best friend, counsellor or confidant – they switch between story teller and enactment as swiftly as the mood shifts and changes. The writing is fragmented – sliced up into fourteen scenes.
The designers – Marg Horwell (responsible for Shag pile and costume), Matthew Marshall (light) and Rachael Dease (Composer) – work within Lee Lewis' muscular direction – keeping bright and ready a darker moment in the story and sugarcoating reality.
However, some aspects of the direct address push me away, asking me to observe a reflection or rumination or realisation – instead of asking me to connect directly to action unfolding and by that I mean inviting me to "lean in." The affect is ultimately one of an intellectual exercise of understanding and weighing what I'm told with what I assume or already know. The moments which swept me up and away were predominantly watching Rogers react to Gibbs contrasting to the dialogue spoken because I felt I was working harder to find the truth- not being told it plainly.
There is a value in taboo, in speaking the unspeakable – and though these topics and revelations have been covered in literature, in newsprint and in online forums – hardly are these confessions spoken publicly. What must be congratulated is the work of both Declan Greene and Lee Lewis to expose and present this contemporary crisis we are experiencing where we sabotage and self-harm through secrecy or through gluttonous excess. We are ultimately the ones who will bring about our own downfall – and that message has often been told. What is interesting is the possibility that we might also be the answer to our own salvation as we catch our reflection in the blade of a double-edged sword.
BOOK
Phone 02 9361 3817
Online http://www.griffintheatre.com.au/whats-on/eight-gigabytes-of-hardcore-pornography/
PERFORMANCE DATES
Previews 2, 3, 5, 6 May
Season 9 May – 14 June
Subscriber Q&A after the performance on 20 May
PERFORMANCE TIMES
Monday – Friday 7pm
Saturday 2pm and 7pm
RUNNING TIME
Approximately 90 minutes with no interval
VENUE
SBW Stables Theatre
10 Nimrod Street
Kings Cross NSW 2011