Inside Out | Seymour Centre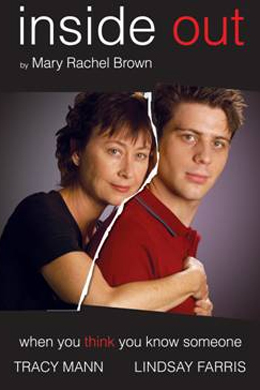 I am a fan of Mary Rachel Brown's work. She is a playwright who has won several awards in recent times… including the 2006 Max Afford Award and the 2006 Griffin Award for New Australian Playwriting and more recently the 2008 Rodney Seaborn Playwright's Award, which she was awarded for "Inside Out."
She has had her plays performed internationally (Permission to Spin was read at the hotINK International play reading festival in New York in 2009), and yet in her home country, had had various successes with productions at places like B Sharp and IPAC, but no big budget productions at the major flagship companies. This is not a criticsm of MRB: as I said, I am a fan, but what on earth is wrong with the Major Australian theatre companies who fail to recognise talent and fail to support it?
So it falls on the shoulders of brave producers such as Christine Dunstan to stage important new Australian works… as in the case of Inside Out which includes a stunningly impressive cast of Tracy Mann and Lindsay Farris at The Seymour Centre's Everest Theatre in it's "intimate mode" of 400 seats.
Tonight it was a wet Sydney night. 65 booked in the audience… and in a venue like BSharp- that would feel like a full house.. in the Everest Theatre: not so much… but nothing was lost in the experience…
I have not seen Lindsay Farris on stage… I've met him in foyers, heard rumour of his charisma and skill on stage: knew how several of my friends and colleagues admire and covet his talent… I had no idea I woudl be so charmed, so impressed, so heart broken, so hopeful for him… and it truly is an impressive performance: strong, brave, feirce, vulnerable and in short amazing. Tracy Mann is perfectly cast as his mother… and no easy performance either, infact downright confronting and brutal.
It's not an easy night at the theatre: because truly Inside Out reveals one of the great fears of all people: living with/witnessing a loved one with a mental illness. I have first hand experience of living with a loved one with a mental illness, and have worked with the mental health community in Ontario Canada, and I can atest to the authentic and raw representation of the reality: which is ultimately reassuring.
This is a slick and powerful production: which yields brave and poignant performance from two spectacular performers. A beautifully written yet confronting script, Inside Out certainly deserves to be the Winner of the 2008 Rodney Seaborn Playwright's Award.
Read more about it:
http://www.seymour.usyd.edu.au/subseason/seasons_insideout09.shtml
http://www.aussietheatre.com/revinsideout2.htm
http://www.artshub.com.au/au/news.aspsType=review&sId=178020&catId=0