Summer of the Seventeenth Doll- New Theatre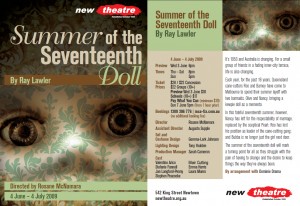 As many of us look around us, it is clear to see that what we are living, is the nightmarish consequences of an infantile mindset. Written in 1953 – the year my parents were born this is a facinating play which I have the great honour to be working on as Assistant Director. This is one of the great plays of the Australian cannon, which shows us how far we have come and how little we have changed… and I find it to be a painful and beautiful experience seeing this play: in its complex and confronting realisations play out in front of me under the sturdy direction of Rosane McNamara.
For many the role of assistant director is a dubious one: for me, it is the great honour by which I offer my skills, thoughts, presence and support to a group of talented people, with whom I dedicate my spare moments, my laughter, by tears and my unerring gaze. Ultimately as assistant I am the gap filler, the time keeper, the confidant, the negotiator and the cheer-squad for those who are dedicated to living in this world for the next 5 weeks. And I am tired, and lucky.
Gemma-Lark Johnson has single handedly created a world of lacy pink frivolity: with a sturdy backing of industrial black mesh: feels like collette dinnigan has met Pearl Jam… yet is incased in a soundscape of Dean Martin, Doris Day and lit by the gentle firm eye of Tony Youlden. The cast are amazing: Stefanie Funnell as Bubba Ryan, Laura Munro as Pearl, Emma Harris as Olive, Blair Cutting as Roo, Valentino Arico as Barney, Jan Langford-Penny as Emma and Stephen Peacocke as Johnny Dowd… all held together by the masterful and powerful mind and spirit of Stage Manager Bron Miller (with whom I am completely in awe!).
And we open on the 4th of June… at new theatre.