OFF THE SHELF: post show report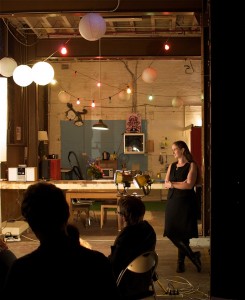 It was a wonderful night in a warehouse in Chippendale: the only request I made of the heavens was that rain didn't happen between the hours of 6pm-8:30pm… for no other reason except for the tin roof that has no insulation and would completely drown out the words of the writers… of course if did rain and in the spirit of the show must go on: the shows did go on… as 50 people moved their chairs from the showing space in studio 14 to studio 10. The showcase started at 6:30pm with writers, actors, producers, directors, agents making their way into the warehouses at Fraser Studios…. I had just spent my time with James Winter, moving the black flooring, shifting a piano, rigging a 9metre curtain I borrowed from Belvoir St, rigging lanterns I had borrowed from New Theatre… sporting rope burn, dirty finger nails, I welcomed the curious, the skeptical, the competitive and the theatre community in to the inaugural OFF THE SHELF showcase.
It was a really interesting night, with most folks staying til 10pm… where people provided written and spoken feedback to the artists who were in recidency in the Off the Shelf program. And the colleagiate feel, the industry pressence, the amazing support from James Winter and Sam Chester, the photography by Leah McGirr, Phil Myers is sported on this and many other websites… hopefully these plays will go on to be further developed, pitched and produced somewhere, someday.
For those who attended: thank you, your presence, feedback and support means so much to all the participants, including myself… and really: it is time we started discussing, embracing and engaging with work in development. New writing does not happen in a silent cold writers garrat, but in between scheduled work, between actor,director/dramaturge, producer and writer: and ultimately audience.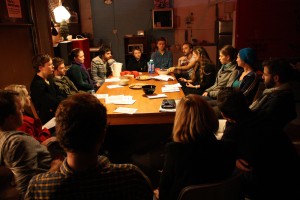 Off the Shelf is a program of Queen Street Studio that provides an opportunity for writers and directors to hothouse a script based project which is in the early stages of development.
HARPOON Written by Bridget Price, Directed by Mark Pritchard
GRAVITY WAVES Written by Will Snow, Directed by Jonathan Wald
RETALE Written by Patrick Lenton, Directed by Anne-Maree Magi
BOXING DAY Written by Phil Spencer, Directed by Scarlet McGlynn
NIGHT, MAYBE, OR A ROAD MAYBE Written by Kit Brookman, Directed by Amy Satchell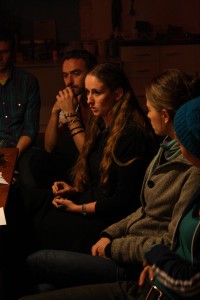 Who is OFF THE SHELF for?
Writers: Provides an intense writing hothouse, complete with a deadline, (or a series of deadlines) to develop work. Builds relationships with directors. Exposes writers to actors (who they may write for in future projects) A showcase provides a "soft" end point to the hothouse project /a midway point to further production. Allows writers to test out working relationships with dramaturges/ directors. Focuses on the writing "process" over performance "product". Enables the writer to hear audience response and respond to feedback. Introduces writers to the theatre community.
Directors: Helping directors connect with writers. Ecourages directors to develop a working relationship with a writer and be involved in the shaping of the project. Allow directors to invite actors they know, or would like to work with. Working towards a showing not full production allows the director to focus on the writing and their methods in working on new plays with actors. Introduces new directors to the theatre community.
Actors: Providing an opportunity to be a part of a dramaturgical process, provide feedback into the script process whilst practising sight -reading skills. An opportunity to network with writers who may write specifically for actors and/or directors who may be looking to cast actors in projects beyond the OFF THE SHELF hothouse.
Industry: Build community, strengthen relationships between artists, advance new writing through awareness of emerging work/practitioners, provide a platform for meaningful engagement with text, encourage thoughtful constructive criticism to build confidence in discussion and discourse about writing for performance.