AUDITIONS- Stories from the 428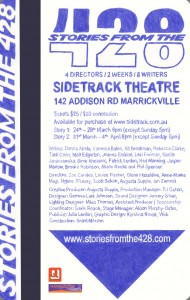 The team from Stories from the 428 are looking for approximately 20 actors of all ages, looks and backgrounds to join us for a two week season at Sidetrack Theatre in March 2010.
Stories from the 428 is a theatre project which takes its inspiration from travelling on the 428 bus route from the tourist hub of Circular Quay to the urban heart of Canterbury. Supported by Marrickville Council and Sydney Buses this is a unique opportunities for Sydney artists to celebrate the sublime in the everyday.
Frequently funny and sometimes sad, this two week season is a love letter to the local area – written about and for people who experience bus travel as a part of their everyday lives. Penned by some of Sydney's most celebrated playwrights inconjunction with the best of the emerging underground- this is a unique and diverse theatre project highlighting the importance of community and finding inspiration in the everyday.
Week 1
The Writers are: Vanessa Bates, Kit Brookman, Rebecca Clarke, Sime Knezevic, Ned Manning, Brooke Robinson, Alison Rooke and Phil Spencer.
The directors are: Zoe Carides, Glenn Hazeldine, Augusta Supple, Ian Zammit
Week 2
The Writers are: Donna Abela, Tahli Corin, Matt Edgerton, Joanna Erskine, Lexi Frieman, Noelle Janaczewska, Patrick Lenton, Jasper Marlow.
The directors are: Louise Fischer, Anne-Maree Magi, Scott Selkirk, Ngaire O'Leary, Augusta Supple
Auditions are:
Wednesday 17th February from 6pm
Thursday 18th February from 6pm
Friday 19th February from 6pm
Saturday 20th February from 6pm
Sunday 21st February from 6pm
Performance dates:
Week 1- 22nd March-28th March 2010
Week 2- 29th March- 4th April 2010
To register for an audition:
Please fill in the online form: http://428form.tk/ by 5pm Monday 15th Feb
Prepare a 1-2 minute monologue
For more information about the project: www.storiesfromthe428.com