POP UP Adventures in Art… Tim Andrew
So… you want to do something in The Rocks that doesn't involve putting up with come-ons rude tourists…
…That isn't set in a beer soaked pub which boasts it's major draw card as overpriced schnitzel?
Perhaps you want to do something after work on Friday that makes you laugh?
Or perhaps you want to impress your new love-interest with your "in-the-loop" cultural discernment?
I thoroughly endorse the work of Tim Andrew – I believe one of the great minds of my generation.
And I have a painting in my lounge room to prove it.
I'll be there on Friday night for the opening (before scuttling off to a show) –
I invite you to come hang out… 6.30pm… I'll even introduce you to him… He's a really nice chap…
You'll like him.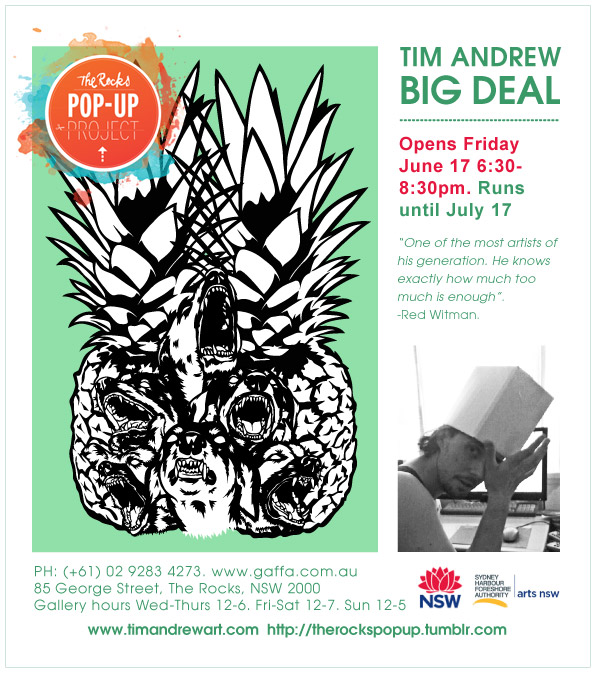 INTRODUCING BIG DEAL BY TIM ANDREW @POP UP GAFFA
IN AFFILIATION WITH THE ROCKS POP UP PROJECT
You are invited to attend the opening of the second exhibition in a series
of six shows curated by Gaffa between now and October.
Opening drinks: FRIDAY 17th June 6.30 – 8.30pm
(Exhibition runs from June 16th – July 17th 2011)
85 George Street, The Rocks, Sydney
Gaffa will be utilising vacant space #85 to execute an exhilarating 6
month program of contemporary art
Exhibition #2
BIG DEAL | TIM ANDREW
"How we face the world, if given any thought, can be one of the most
difficult decisions we have to make, and with days ticking over every
twenty-four hours, one of the most frequent as well. Do we bear arms?
Teeth? Or do we lie down, play dead, negating any possibility that we
could be a threat to anything or anyone and be the beta-dog. Humanity has
evolved out of need for 'survival' and into the need for 'social'.
Tim Andrew's work occupies a place in which the alpha-dog lies down, he
actively surrenders his honesty and shortcomings with fervour, so
purposefully that it can't be said that he has given up or is conceding to
a stronger or more dominant force. Andrew is a renaissance man: producing
images, kinetic sculpture, text and video work, all pushing the ethos of
asserting humble, sometimes depreciating honesty, all laden with wit and
humour." (Excerpt from exhibition catalogue essay – Ace Wagstaff)
:::Pop Up Gaffa is proudly supported by & partnering with:::
The Rocks Markets // www.therocks.com.au
Sydney Harbour Foreshore Authority // www.shfa.nsw.gov.au
Arts NSW // www.arts.nsw.gov.au
Lyrebird photography // http://www.lyrebird.joylai.com
Bespoke Communications // www.bespokecomms.com.au
St Germain Liqueur // www.stgermain.fr
………………………………
:::ABOUT THE ROCKS POP UP PROJECT:::
Four buildings//six months//limitless thinking
For six short months The Rocks will pulse with the energy and passion of
an ever-changing mix of creative minds as they take up residence in four
vacant heritage buildings on George Street.
Artists, sculptors, fashion designers, jewellery makers, writers, and even
a tailor will turn The Rocks into a nucleus of studios, galleries, pop-up
shops and event spaces as they breathe new life into familiar surrounds.
How each artist or collective uses their space is limited only by their
own imagination. The only thing you can be sure of is that nothing stays
the same for long and you're always in for a surprise.
Check therocks.com to find out what's happening each week.
10am to 7pm Wednesdays to Sundays
……………………………
http://therockspopup.tumblr.com