The Seagull | Belvoir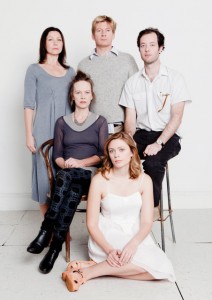 Seagulls are, as any ornithologist knows, carnivorous scavengers. Pack birds. Birds that possess a unique mob-mentality and a very clear pecking order. Baby gulls bully their parents with powerful squawks. They will ready to elongate their necks and let forth an alarming noise when courting or challenging other gulls. As a teenager trapped, growing up in the pastoral "paradise" of a northern NSW coastal town, I would sit on the dunes and watch as the gulls scurry about, robbing teenage surfer boys (and their accompanying bikini babes) of their fat, hot chips swaddled in butchers paper. I'd watch the gulls squawk and flap, demanding chips. I'd watch the surfers squawk and flap at the seagulls. I'd overhear the myths (or were they?) of if you give a seagull an aspirin (hidden in a chip) they explode.
That was half my lifetime ago.
Now, in what may be remembered as Australian theatre's "Age of Adaptation," Belvoir's latest offering of The Seagull has found its place amongst the pecking order of productions- with potential punters urged to "Check [the website] regularly for updates or contact the Box Office closer to the performance you wish to attend for returns." Following in the tradition of Diary of a Madman, potential punters are also invited to queue for "Standing room tickets [that] will be released at 9.30am on the day (2.30pm on Sundays) for all performances from 9 June – 17 July. These tickets are only available in person from the Box Office and are limited to two per customer. "
The people have spoken. they've paid their money. They've made time in their busy schedules for what is one of theatre's events of the year – Benedict Andrews, David Wenham, Judy Davis, Emily Barclay, Anita Heigh, Bille Brown, Terry Serio, Anton Chekov, Ralph Myers – the names are assurance of ticket sales – but does that automatically mean it's an amazing piece of theatre? All of you Seagull ticket-holders out there can exhale – this ain't a turkey, you're definitely on a winner.
I feel no great compulsion to re-tell the story – or to necessarily provide effusive and snappy adjectives next to the names of the artists involved… to satisfy your curiosity about the critic's reception I will steer you towards John McCallum's review in The Australian, James Waites' web-log e-pistle and Helen Barry's review for Australian Stage.
What I think is so beautiful about this production is how familiar it feels – how normal and everyday -despite the hyperventilation some may experience over seeing Judy Davis or David Wenham. I think for those who are hunting that experience – of being amongst the constellation may be hazed by the truly beautiful ensemble work – and it is a magnificent ensemble… transparent and present and casual and normal. There is nothing vaudeville or tacky or arrogant about this cast or production.
The wonderful opportunities within adaptations are many – re-locations, cultural translation, contemporisations – which are all pretty standard. Previous productions of The Gull for me have emphasized Nina and Kostantin's career frustrations – or the romantic longings/unrequited fascinations of the younger characters. Suitably for the the audience Belvoir speaks to, this production for me was very much centred around Trigorin (David Wenham). We watch as he suffers the tyrannical emotional, roller coaster of Arkadina, his fascination with the ever tumultuous Masha, his lust for Nina, we hear of his compulsive writerly observations, there's an empathy for him – more so than for Kostantin whom previously I had regarded as the focus of the play.
This production stirs up something deep in us – we are presented with images that seem to trigger our past – perhaps a feeling of a place, or of being outside, or somewhere else or on the verge. We see the longing of the characters – their impatience for change, for fame, recognition, for love, for finality or security. We hear the lament of love or life not being quite as dreamed or expected – and we watch the self-sabotage as they face a life of suffocation or staleness or struggle.
Andrews' Seagull sits perfectly balanced. Between the easily accessed, recoginsable universal truth perhaps this is the public truth which pertains to the outward expression of what we want – and the secret, dark shameful truth of that which we desire/yearn for the private truth of who we are. And despite being one of the grand director's of Australian theatre, Andrews allows his cast to sit naturally within this naturalistic play – not needing to direct (or design) over the top of the story. Confident in the narrative. Confident in the actors, who are complete in these portraits.
For those who feel fatigued from wading through the all -consuming obsession with Russia our mainstages see to have of late – you'll be relieved and delighted at this ever surprising, elegantly presented, beautifully balanced piece of art.
I doubt I'll ever need to see another Seagull in my lifetime. I'm sure this production will haunt me always.