Heartbreak Hotel | Griffin Theatre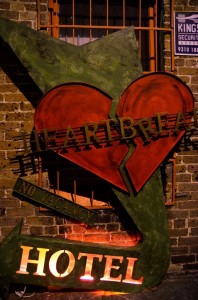 It has been an amazing week at Griffin Theatre with the Festival of New writing – the Playwright's muster, The Griffin Award announcement, even a series of 24 hour play generators – but the event I was most keen to see was on Wednesday night. Whilst my usual reviewing colleagues set out for the opening of the star-studded Seagull, I pulled on my gloves, wrapped myself in scarf and coat and ventured to Heartbreak Hotel – dateless and desperate for a good time.

"Relationships – they engage our love, time, thoughts and dreams. But what about those that don't work out? The ones that don't measure up. The ones that leave us battered and bruised, shell-shocked or penniless. Relationships that live on in carefully picked presents, or smiles recorded within photographs… How do we forget? How do we remember?"
The Griffin had set up a museum of broken hearts – memorabilia that reflected the memories of love long lost – inviting punters to donate their love tokens to the installation. Couple this with new short performances directed by Page Rattray and Shannon Murphy, and written by Ian Meadows and Kate Mulvany, and a living installation by Glace Chase this was a traveling theatrical installation – a multi-faceted event. And a rare, beautiful, utterly satisfying one night stand.
Hands plunged into pockets I winter-wrapped and feeling comfortably uncoupled ventured to a park near the theatre where two boys sat with a letter with a series of check boxes yes no maybe. A lovely portrait of awkward unknowing in the early stages of courting – the highs and lows of school yard love – the simplicity, the complexity and the emotional turmoil in between penned by the ever astute Kate Mulvany.
Then time to move on for some free time – I ventured into the Griffin Dressing rooms for the Teen Love Crush – which was perhaps the hardest chocolate I have ever earned. Stuffed to the edges with eager, urgently whispering teens with their angry/sad/despairing tales of woe – which I offered the general advice to all and every one – having been quite an expert in bizzare-ness of breakups.
Then downstairs to the foyer where I wrote a letter to my ex – which unlike the other's I saw was a little different – no swearing in my letter – no anger – but a thanks and good luck and I'm glad we'll be friends forever.
Then waited (in vain) inline to experience a moment behind the curtain with Griffin's Affiliate director Jimmy Dalton.
Then to the alcove where with headphones donned I watched as the violence and the yearning of lust/love/frustration/yearning/unresolved torture unfolded in movement.
Then waited in line for Glace Chase's toilet cubical counseling session. (in vain)
Then headed to the theatre. Upon entering the space my hand was stamped with Lonely? and I watched as others were stamped with Loved? The audience then divided into the two seating banks of the stage – I was sitting with the Lonelys… for what was a magical performance by duo Sands Through the Hour Glass (last spied in Trapture at The old Fitz) examining a hotel murder, and the marriage that started it all… bubbles, 80s dance tunes, even a heartfelt "I can't help falling in love with you" rendition, love, pale faced, bruised and in a body bag. Absolutely surprising and heartfelt.
Then upon return to the foyer, I clicked my headphones to the new channel – and waited for Dummy by Ian Meadows… I thought at first it was a piece of live/invisible theatre that was happening beside me, as a beautifully dressed woman snapped at her boyfriend "No, we're at the theatre… it's not time to be playing on your iPhone!" And a mumbled retort followed…
And then it started, quiet at first.. casual. The mutterings of a conversation amplified – a couple push and pull their way through the conversation – blame, accusation and a smattering of emotional terrorism – we can see who they are, disguised like the rest of us, until a question of trust enters the conversation and it's a make or break. She walks out of the theatre They fight in the street. We've seen this happen a thousand times before.We've watched. We've felt the pain and embarrassment. Perhaps we've been that person, a private moment make public. Ugly, engaging. And then it's over. We hear her walk away, her break falter as she leaves.
Wow. Wow.
Then It was my turn to spend time with Jimmy Dalton behind a curtain for a sensory experience – a smell, a sensation, my imagination – and a unique story developed and presented just for me… something involving a boat and tomato sandwiches and the sweet whispers in my ear of Mr Dalton, dressed in a blue denim boiler suit and armed with some triggers of seduction including an active imagination.
Then finally, at the tail end of an exhausting evening, Glace Chase, accepting no longer the one-on-one counseling but en-masse as many as could be squeezed into the disabled toilet… in my experience, Suzie Miller, Shannon Murphy and two Glace fans made their way in… and after a brief moment Glace suggested we could either invent or be real about our heartbreak experiences… and I was to go first. There have been many experiences of heartbreak I could tell, and so i told one of extreme betrayal and nastiness and disappointment. It left the cubicle silent and awkward.
And none shall know if it was true, or not.
I told it so matter-of-factly. So smoothly. With minor faltering and massive detail. And I guess that's the interesting thing about the narrative of love and heartache – how it becomes a story we carry – and how we relive- or tell stories informs who we are, how we see the world, how we interact with others… and in the telling, how they view and see us.
As I left that night, a single woman in Sydney, I was reassured by the universality of love – of hurt – of heartache- of longing. And delighted by the community that was formed in queues, in the foyer, huddled around the play-lets and moments of active engagement. And when I got home, Facebook had the residual echoes of the evening, playwright Emily Calder's Lonely? stamped hand and a moment of dialogue that resulted with a bus driver. Here's mine: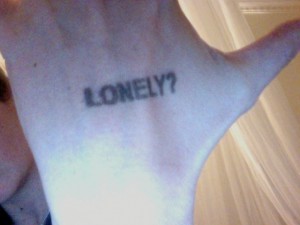 And now… it's time for Elvis: