The Coming World | Two Birds One Stone & Darlinghurst Theatre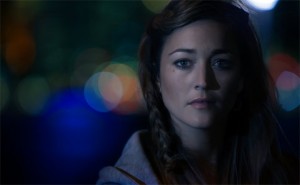 A long tangled web of video tape pours down onto the stage – glinting in the half-light like seaweed in a forgotten cave.
On the shore of a New England town, two people, a man and a woman, wrestle and giggle and kiss – love tumbles out of them as they utterly embrace the moment with abandon. It's lust, fun lust unencumbered by practicality. But things aren't as they first appear. Ed is $10,000 in debt and needs his ex-girlfriend Dora to help him get out of an impossible situation. After Ed's unfortunate demise, Dora and Ty meet on the beach and discover a unique connection to the past, to Ed, to each other.
There is no question the power and prowess of Ian Meadows and Cheree Cassidy – they are astoundingly present, spontaneous, energized, honest in their performances.
This is definitely an actor's piece of writing – in that it must feel incredible to perform – the language, the shapeshifting – it is a play comprising of intense scene work – each scene with a powerful trajectory. Clear intentions. With room to explore a full range of emotion – to go on an emotional journey the rise and then a deep and dark fall.
In and of themselves, the physicality of both actors was compelling enough – aided by the stylings of Sam Chester's movement direction, and exquisitely lit by Jack Audas-Preston supported by an evocative set by Charlotte Lane – beautiful bodies in space – simple, swimming, aquatic submersion – beautiful. However, I was at times spatially and temporally lost… there was a lot of work to do to sort out where the characters were – and some staging appeared to be arbitrary decision to use the space eg Dora's long walk around the perimeter of the stage area. For a play containing two actors – the Darlinghurst Theatre's stage is a big space – and the temptation to stretch the blocking out – especially in transitions- for me, lost some of the intensity and intimacy of the scenes.
Interesting for me (always) is the choice of play. And the choice to perform the text in accents.
I personally find plays performed in the accent of the writer's native voice or the location to be quite an alienating experience – whereby I become more conscious of the acting and the vocal work and the accent than I do the story. That's my personal taste – and I know many disagree with me. Yes, American writing has a different rhythm – American English, spoken (and written) seems very dramatic – it is punchy and plosive and aggressive and lives in the front of their mouths. The language is robust and thus confronting – it's dynamic. I wonder if Australian writing and the Australian voices that support it will be seen as anything more than languid and gutteral. The major response to "doing it in the accent" is the language – and I wonder how true that is – I haven't settled on an opinion – I am just airing my skepticism.
Christopher Shinn's play didn't really ignite much in me – fairly linear – and fairly familiar terrain, not offensive in anyway, not difficult or confronting. It's a well-written piece of prose. The play has had Pulitzer prize presented perhaps for it's grand descriptions – it's very writerly. Very writerly – lots of words – lots of exposition and descriptions of past events (reminiscent of John Patrick Shanley's Danny and the Deep Blue Sea). Not overly physical. there's alot of telling – not a lot of showing. But what is shown is that it is a fantastic platform to celebrate the skills and charisma of two very fine performers.
It's worth checking out just to say that you saw Meadows and Cassidy on stage before they were transported into Hollywood celebrity status.