Piranha Heights | Shedding Skin in & New Theatre's The Spare Room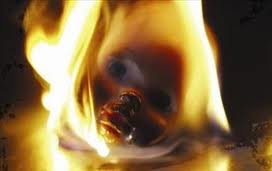 A grubby, dank apartment hovers over a black abyss.
Two brothers Alan (Heath Wilder) and Terry (Jason Langley) are meeting to discuss the arrangements now their mother has passed away.
There's something nasty looming over them…
The memory of their mother?
A loveless marriage?
The veiled woman?
Previous familial slights?
Hidden agendas?
There is something rotten here – and everything is pointing at it. The terse conversation. The arrangements. The violence. The vomit. The fickleness of tempers. The sound design. The set design. The costume design. Everything. You know from the moment you sit down in the New Theatre's seats there is something very, very wrong here.
This is the second play programmed by New Theatre as a part of their Spare Room Initiative. Interestingly this is the only piece which is not a new Australian play – and also the only play not directed by a New Theatre first timer.
This is also the second piece of work I have seen directed by Fiona Hallenan-Barker, after her joint effort in Howard Barker's The Possibilities at Sidetrack last year – who is in her second year out of Drama School, having graduated from VCA. I must confess to not being overly familiar with Hallenan-Barker's previous pre-drama-school directorial offerings (besides a few short plays she directed for Art is a Weapon in 2007) but judging by her choice of play (with an exception or two…) the body of work she is developing appears to favour brutal, poetic horror stories… and Piranha Heights fits within that aesthetic leaning.
Prior to this production I have experienced two other Philip Ridley productions: Ben Packer's Production of Mercury Fur (The Stables Theatre, 2007) and Jonathan Wald's Production of Vincent River (The Old Fitzroy Hotel). The writing is bleak, bold, and deals with examines the dirty, desperate, angry, secrets of the white middle classes – their latent violence and the everyday horror of poverty. The plays delve into deep psychological darkness. Intense claustrophobic situations and the reveals that shatter any veneer of the average/normal/predictable choices of the characters as they crash into each other.
Tom Bannerman's set and Anna Gardiner's Costume designs are well thought out and beautifully executed – and this isn't really surprising as Bannerman knows how to handle designing at the New Theatre – as his bio attests – this is his 57th design at that theatre. It's beautifully crafted.
The cast are sharp, ready and utterly in it. Terrorizing each other -full force – full energy -brutally at each other. Unrelenting and unforgiving.
But for me, as an observer – there was something I failed to connect with. And I'm still thinking about what it was. Is it the fact that because I know this is theatre – that wont ever see the violence on stage that I have seen on TV, in film, in real life that it all seems to be all threat but no follow through? Is it because I don't sympathize with any of the characters? Is is because I am watching and listening to the re-creation of a British world (a world I am completely unfamiliar with except through TV and film) that it seems so "other"?
I find myself watching the acting. Listening to the accent. Admiring the set and wondering, why this? Why here? Why now? beyond the intellectual admiration of the writer – what is it that Hallenan-Barker wants us to feel and think about our world? Is she hoping that we, like her, feel compelled to stab a pigeon in a park after experiencing the play as her directorial note suggests? What do I care about London? What should I care about London? London's over there – it's removed from my reality. I have a theory of London – it's the colour of pigeons and concrete and pack-a-day smokers. It smells like pea and ham soup. It's full of dower men in trench coats and old wooden taverns and women with crooked teeth and raspy voices. My image of London is already bleak. So this further re-enforcement… and I'm not really surprised or enlightened.
I only suggest that I'm not surprised or enlightened because I think it is the role of art. And that's what I'm looking for when I go to the theatre.
However, I can say that Hallenan-Barker seems very consistent in her taste and her vision of the type of theatre she enjoys making – though not my cup of tea, I can say, she has a very firm focus and I look forward to seeing more of her work.