Bare Boards Brave Heart | Subtlenuance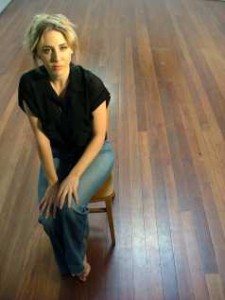 As someone dedicated to new Australian writing AND independent theatre it is extremely remiss of me not to have previously attended a production by subtlenuance (Paul Gilchrist and Daniela Giorgi).
On this occasion, I bundled into the car with two of my favourite theatre-going companions and headed to The Drill Hall in Rushcutter's Bay. The season which ran for 5 nights was billed as a presentation of 6 new solo performances "by established and emerging artists" under the premise of lo-fi storytelling. I love this premise.
A wonderful opportunity for Subtlenuance to extend it's creative partnerships (outside their own creative input) and develop a network of like-minded artists.
I am a firm believer in curated seasons. And I am also a believer in using opportunities to grow – networks, aesthetics, ideas and to build a collegiate community.
However, it is very easy for such a premise to be slowly compromised to fit in with the agenda and needs of individual artist – and especially in a season focused on solo performance – the individual may inadvertently lose perspective on the whole evening's presentation to an audience. When that perspective is lost, it can be very difficult for an audience not to start playing favourites – especially when the works vary in style. It is at this moment when the curator becomes the all important orchestrator of the suite of works – balancing the audience's journey through the ideas. Like that of a gallerist arranging paintings in a room so the viewer walks in they are taken on a journey, so too does the arrangement of the pieces of theatre create a journey for the audience. It's a skill not to overlooked or forgotten.
Because I know some of the artists in this program – I will not focus on writing up the pieces individually, I prefer to reflect on what the production as a whole has to offer and that is an opportunity to learn, grow, hear, develop, test, fail, offer, assert, discover something about your practice, your audience or your needs and boundaries as an artist. For the audience – this type of "festival" is not suited to everyone. This type of work is well suited to those who are familiar with developing artists, or fringe theatre – those who are sympathetic to the adventure of new work. This isn't main stage theatre, nor does it need to be for it to be valuable and an essential part of our theatre landscape. This fledgling festival is the garden bed that has a few wild plants growing in it – and we are yet to see what these may grow into – perhaps an oak, or an eggplant, or a thistle or a pansy or a gum tree – sometimes it's too early to tell. But the important thing is that there is rich and fertile soil afforded to these artists – that they are supported and nurtured and encouraged and in some cases pruned. It's not easy to invest in the unknown – and subtlenuance has. And for that, I openly applaud their efforts. I hope they continue to grow their curatorial eye and find a balance between access and excellence which ensures that the artists involved receive quality support, firm guidance and high level resourcing.