The 39 Steps | Genesian Theatre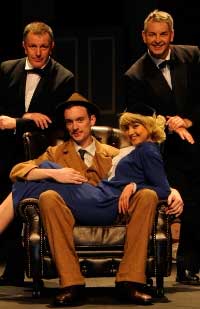 I have been flicking through my diary – backwards as well as forwards – as Oscar Wilde once said "I never travel without my diary. One should always have something sensational to read in the train." It's not really sensational – stuffed full of postcards and phone numbers and ticket stubs. I love my diary. Those who have seen it know it's colour coded with little post-it flags and has lists of check boxes to keep me on track. Last month, I noticed when looking through, that most of the shows I have been seeing have been at the mainstage companies… and that I have been sorely neglecting the independent sector. After all, I only started writing responses to plays after I felt that the independent and new Australian works were not getting sufficent exposure or feedback from the print press… that was the whole point of me staying up to pick -peck away… and here I am – with my diary keeping me on track (again)…
So after a polite message or two over Facebook… a long lost Uni friend Tom Massey,invited me to his latest directorial venture at the Genesian Theatre. I must confess i have never been to that theatre – well- that's not strictly true.
There was that crazy expedition I did with 2 other colleagues in my Performance Studies class – Jenny Leong (a one time Greens representative for the Grayndler electorate) and Michelle Outram ( a performer who is now Perth-based I think? but who for a time was a part of a devising group Shagging Julie). We had leaped into Jenny's matt-black valiant and went to 80 theatres in Sydney in 2 days -taking photos of our selves outside the venues… it was a mad adventure and for me really pin pointed where the theatres in Sydney are. The Genesian has always been there as a theatre since the 1950s and has, as far as I understand it been a rival to New Theatre's community seniority – though The New was started by the communist party and I think the Genesian has its roots in the Catholic Church. Both are fierce survivors who were before the New Wave and will survive long after the neo-new wavers have rolled over in their graves.
Anyway, so after some dumplings at my favourite handmade noodle bar in Chinatown, I venture into the theatre. The foyer has mirrors and I find it unsettling – because I am surprised by my own reflection. The framed posters of yesteryear sport lots of traditional titles. Oddly enough amongst them is the cover title of a Shakespearean play by John Bell. There's pride there. And I find it reassuring. The theatre is framed by stained glass windows that speak to the history of the theatre and it seats about 70 or so patrons who sit confronted by a raised proscenium arch with pale mustard-coloured curtains.
On this occasion, The show is The 39 Steps – advertised out front of the theatre hemmed in lights and titled as "Alfred Hitchcock's The 39 Steps" – but it's not It is John Buchan's The 39 Steps. If you are expecting a serious thriller of Hitchcockian proportions – you'll be disappointed, in fact, disgruntled. (Which is very funny infact to listen to punters cluck their tongues and exclaim how over done the acting is) This is a farce. Full of vaudevillian gags and physical comedy and old English Carry-On style writing.
I think an apt review can be found here on the OZ BABY BOOMERS site.
It was a full house when I attended – people in tweed and scarves – a few younger ones – but an audience who could appreciate the quaint innuendo and the Monty Pythonesque overtones. The cast were highly energetic and focused on the hammy comedic moments – Max Philipson, Mark Langham and Stephen Holland (Three actors I am unfamiliar with) and the ever-delightful Lib Campbell who I am familiar with – bounced along in the comedy with great ease.
The important thing to remember with theatre is that there are many genres, many venues, many people that make it. And just because they aren't hungrily pursuing a film career inbetween shows – or directing on the mainstages – it does not mean that this type of theatre does not serve a community or an audience. It is also important to remember that not everyone sky-rockets to fame or big budget musicals or to being the head of Bell Shakespeare.
Though this type of theatre is not my cup of tea, there was something nostalgic about it for me. And I was so glad that my first Genesian experience was courtesy of a courteous university chum.