GROSS UND KLEIN (BIG AND SMALL) | Sydney Theatre Company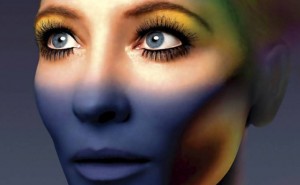 Despite the fatigue that comes with the end of the year – there is a huge amount of energy and chatter around STC's major show of the year. Traditionally the last show of the year is a cracker – Soderberg's Tot Mom in 2009, Uncle Vanya in 2010 and this year Gross und Klein.
This is a big show.
Touring, co-production.
Commissioned translation.
Big ensemble cast.
Big Profile.
And yet, it's about some pretty small domestic concerns.
It is an epic production, but with domestic ideas.
I once had a mainstage theatre programmer in a job interview, tell me that the reason why no Australian playwrights are commissioned for the mainstage is because they write domestic ideas that don't suit large stages. My response to that was, give them the space and they'll write for it. Also I don't necessarily think that "domestic" equates to "small" or "insignificant" or "non-epic". The truth of that matter is, that Australian playwrights may be a little too practical sometimes in that they write for the spaces where they think their work will get on… and usually the new Australian writing friendly spaces are intimate, smaller venues.
But that's another conversation, for another time.
I think the conversation around this production, is more to do with what I'll call "cultural clout."
Interestingly, even with big shows, not always do things go according to plan. This co-production as a part of STC's unashamedly "European season" was to include the work of director Luc Bondy – but he had to withdraw from the project due to back problems.
Here's an example of Bondy's work:
Now. Here's the link to the STC Blog – which is an interesting read by Jo Litson – allowing us into the backstage mechinations and decision making:
http://stcblog.posterous.com/gross-und-klein-benedict-andrews-talks-about
What did you think of that article?
How did it make you feel?
What is your impression of this culture we have?
It made me feel a bit, um… awkward.
Well, a bit crummy, actually.
Not only because the big names dropped were all male (yep, besides Nevin– who is an actor more than a director – not a big D "director" female mentioned) but because there was something of Dorothy in the Wizard of Oz, realising she just had to look in her own backyard.
The talent to direct this show was right here, all along! Well actually, he wasn't. He was living elsewhere, overseas.
And in the article, the set designer Johannes Shutz (a German designer) is praised for his work, but Alice Babidge whom "he's worked with many times," is not. And yet – her costumes -and her career are long standing in this country and for that company and her work (in particular on this show) is stunning.
What's with us? Huh? We forget to praise our own, and we wonder why our talent leaves for other shores. It's true that unless our artists are overseas, or praised by people (audiences and practitioners) from other countries, we are very OK with ignoring them.
We want art from other countries to teach us how to be edgy. And for many Gross und Klein will be a weird and bizarre and different show. But really, it's not. I've seen weirder things happen at PACT, or Blacktown Arts Centre. For the STC audience, they'll love it because Cate Blanchett is in it (and don't get me wrong, she IS spectacular as Lotte -absolutely) and they'll watch this style of theatre because it's "German."
But it's not really.
It's an English translation, by an Australian director.
And it's still fairly tame and casual.
But I guess in evaluating what is hot and what is cold, and what's big and what is small – it's all relative.
It's brave of the STC to broker these international relationships. It's brave to make such a large scale touring work. And I can do nothing but applaud them for having that large scale vision.
But I cringe at our cringe worthy sentiments… where the second option for director was an Australian.
There's something more about this cringe though… and I've been thinking more and more about the cause of it it's resurgence or prominence.
It is very, very likely that artists in Australia have been sold a lie about legitimacy.
It is very possible that someone may not be considered a legitimate artist unless they have studied.
It is also possible that a part of that rhetoric is being pushed by institutions in order to justify their fees and their branding.
It's why thousands of actors audition each year for NIDA.
It's why most directing graduates waste years of their lives in Assistant directing jobs.
Australia has a cultural problem. We want to be legitimised internationally for our work. We look to other countries for legitimization or acceptance – and perhaps that's because we don't seem to be very generous to our fellow artists.
We don't seem to offer them the benefit of the doubt, or the generosity of time or resources or even simple curiosity in each others work.
And I think that's really sad.
I dream of a cultural shift.
I dream of a cultural landscape where we are safe in ourselves to such a degree that there never need be any doubt that as an artistic community we have removed snobbery (intellectual, financial, and otherwise) and we have regarded work on it's terms – not it's background or it's implied status. Where we are just as likely to see Artistic Directors show curiosity in the Performance Space or PACT as they would in Belvoir.
Published at www.australianstage.com.au
A major co-commission between Sydney Theatre Company, Ruhrfestspiele Recklinghausen, Barbican London and London 2012 Festival, Théâtre de la Ville and Wiener Festwochen, Gross Und Klein is one of the most anticipated productions of the year. Not much about this production is small. Not only has it a hefty cast of fourteen, and a running time of three hours including interval, but it is destined to tour internationally, with Sydney Theatre Company's Artistic Director, Cate Blanchett at the helm – it's a big show. BIG.
But it starts small.
Lotte (Cate Blanchett) is in Morocco. She's sitting in her apartment, on hiatus from a tour, listening to two amazing philosophers speak on the street below. We hear their conversation through her voice, as she recounts the experience of hearing them speak – but not really absorbing what they're saying.
Simple.
Small.
But, then again, not so small. Big ideas gathered in a small moment. Big voice, big emotion, in a simple idea. Both at once. Big and Small.
Written by Botho Strauss and first staged in 1978, what we are witnessing is a translation by Martin Crimp (STC subscribers know from the 2009 production of The City) directed by Benedict Andrews.
On Johannes Schutz' blank, black stage of the Sydney Theatre, rooms appear, shrink and expand. A wire frame. Out of the blackness faces appear and disappear. The world shifts and rows of tables or a bedroom or a window slice the stage. People without name or relation, appear. Speak. Leave.
Lotte's relationship with her much older writer husband has ended. She is in an emotional purgatory. Like a pinball in a machine, she bounces from one world and one person, to the next – slowly deteriorating as she goes (the opposite of a snowballing effect.) With the whirlwind of interchanges, revolving cameos played by an ensemble of some of Australia's brilliant actors – Lynette Curran, Anita Hegh, Belinda McClory, Josh McConville, Robert Menzies, Katrina Milosevic, Yalin Ozucelik, Richard Piper, Richard Pyros, Sophie Ross, Chris Ryan, Christopher Stollery, Martin Vaughan keep the show running and revolving as we fluctuate between the expansive and the confined. The big and the small.
Music by composer/sound designer Max Lyandvert adeptly fluctuates in style and force. The cues of the music seem to be delayed as to not merely treat the music as transition cover – but to set the tone or energy for the proceding scene.
It's an interesting production – full of ideas and moments of tender reckoning. The cast is good, but it is Blanchett you're there to see. And she is stunning. Dancing with wild abandon, scratching and shifting her clothes. Damaged and lost and funny and sweet. We love Lotte for her honest yearnings and her bumbling articulation. We admire her for continuing, hopefully and honestly into the great unknown. We laugh at her and with her. We find her joy. We enjoy her simplicity. Yet…
It's a big performance.
It's a big show.
A big show full of small moments of the ordinary and the everyday, warped and whittled into a pointy sharp stick poking at the wound of disconnectedness.