A $100K Opportunity | Movie Extra Webfest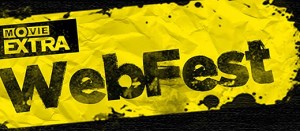 On my only day off in November, Bel Delia and I got together to create a trailer for the comedy series we have been developing Petty Crimes. (That's what I do with my days off…) In a guerilla act of "what if" and "do you reckon if we could condense this 12 episode series into a 60 sec trailer?" for the Movie Extra Webfest. And so, we did.
Have you heard much about it?
The press release looks a little like this:
"Movie Extra and Screen Australia have partnered to offer budding filmmakers the opportunity to compete in Movie Extra Webfest with the major prize of $100,000 production budget for the winner to produce a seven part webseries for Movie Extra.
The competition encourages creatives to pitch an original webseries idea via a 60 second trailer. Through social media, fans are then encouraged to take part in the voting process, with with each vote giving entries a greater chance of getting into the finals by generating a real life audience.
The winning film will be decided through a combination of votes, creativity and an official Movie Extra industry judging panel.
Competition closes on 23 November 2011.
For more information, 'LIKE' the Official Movie Extra Webfest Facebook page."
I thought I'd share with you our entry and the entry of a few of our friends:
"Man was born free, and he is everywhere in chains. One man thinks himself the master of others, but remains more of a slave than they." – Rousseau, The Social Contract Rules. Regulations. Authorization. Tick boxes. The law. Signs that say – no parking, 12 items or less. No littering.. We may be born free – but everywhere we are in chains. With a society overrun by rules and laws – what if we reclaimed our freedom and our happiness by re-instating commonsense? And, what if it meant breaking the law? Not big laws. We're talking little laws. We're talking, Petty Crimes. Our unlikely duo – Jack and Jackie – are ready to tell it like it is. Jack the renegade anarchist, hell bent on freeing the world one rant at a time. Jackie the corporate woman who desperately seeks happiness, and her tantrums prove it. When their paths cross at a police station, this odd couple decide that happiness and freedom is best sought in pairs."
https://apps.facebook.com/mncwebfest/showentry/993678/null/4
"Charlie, a kooky scenster is on a quest to be Fanj: a hipster extraordinaire.There's just one problem, her cape wielding, moustached ex: Tall Paul, The Ultimate Fanj. He's broken her heart and stolen her idea -The Square – an underground night where uber hip bands play, punters have less than 2% body fat and love to quote Jack Kerouac. Enter Charlie's childhood bestie, Elias: a mountain-dwelling, sustainable-living, free-spirit. With a mini-makeover Charlie enlists his help to take down Tall Paul…but does she want to win him back or stab him in the back? After a failed attempt at starting their own night -The Circle, Charlie goes to the dark side and becomes Tall Paul's right hand Fanj. Meanwhile Elias hatches a plan to make her see it aint so hip to be square. He plants a garden. On the eve of Charlie and Tall Paul's Ultimate Fanj Fest, will she choose trends over friends? To Fanj or not Fanj? – that is the question."
https://apps.facebook.com/mncwebfest/showentry/970700/null/4
"Aspiring American Glace Chase has just won a golden ticket to the best place on earth: NEW YORK CITY!!! Finally he has a chance to escape boring ole Syd-nay and get to a place where everything is amazing all the time! But Glace can't imagine what it's going to be like: Ghost or Friends? Taxi Driver or Sex and the City? So he needs your suggestions from your fave NYC movies so he can pound the pavement and discover which movie is most like the real NY! Maybe Glace should try to become a Bronx psychic medium just like Whoopi? Maybe he should go on a murderous rampage just like Robbie? Maybe he should become a boring twat with his very own Big just like Carry??? You decide!!! Help Glace find out which movie is most like NYC. Glace Chase vs New York. Someone's gotta test the dream."
https://apps.facebook.com/mncwebfest/showentry/978211