Refusing to Lose Sight – Observing Michal Imielski in rehearsal for How to Lose Sight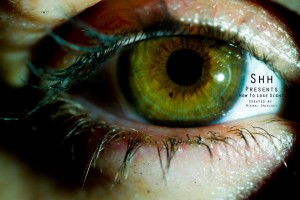 A half-hour drive west from the city – Sydney's geographical centre. The heart.
Parramatta.
I know all the landmarks of the drive there.
The petrol stations and the car yards.
The junk food chains and the billboards.
When I arrive in Parramatta, tail lights glow red in the procession from the Highway to the centre of Parramatta.
Lights double in the rain. It's a late spring weather – fluctuates from sweltering hot to mild rainy days. It's a twist and turn – indicate left and left and left and then right. A small house, dwarfed by a sports stadium in the shadow of the Parramatta Leagues Club, holds it's own. As buildings of new and burgeoning industries assert their status amongst the Parramatta skyline – there are is a small oasis amid the development. Heritage listed. Modest. Reminding us of the scale of a much younger Parramatta. Of a much different life and world to the fast and the slick and the pre-prepared.
How to Lose Sight is Michal Imielski's current project. In fact this was the project which started our first dialogue in June. The first show, Unsex Me as a part of Riverside's True West season was my first introduction to rehearsal observing for Imielski – the context can be found here:
Michal Imielski: An intimate Portrait of an Artist and a response to Unsex Me | True West Theatre & SHH Productions
And again, I find myself drawn into a new set of ideas, a new way of working, a different realm of theatre-making.
This is the second work of a triptych exploring the world of the blind and the vision impaired. I first encountered his ideas when I was included as one of the curators for the Sydney Fringe Festival in 2010. I had recommended his proposal for a remount of Blind as You See It – the first in the series. His interest in the world of blind came from a chance meeting a woman in a restaurant. He was working as a magician and with one group a man told him not to bother trying to show his wife any of the tricks as she was blind. This sparked a series of questions and ideas – and is a far reaching investigation into what it means to live without sight.
Assisted by Vision Australia, Imielski developed the framework for a show based on a series of interviews with people in the vision impaired community – some who were born without sight – some who have lost their sight through accidents or through degenerative disorders.
These conversations have resulted in a site-specific work asking about how people without sight live and love – what they think of themselves and how they view the world.
Created on sight by performers Barton Williams, Cloe Fournier, Julia Landrey, Odile Leclezio, Gideon Payten-Griffiths, Peter Maple, Pollyanna Nowicki and Shauntelle Benjamin with Imielski as director and composer – the works are part narrative, part installation, a curious hybrid collage of puppetry, dance, poetry.
For some months I have watched and listened as the ideas and the production have been taking shape – I have read the funding applications, the media releases. I have watched and listened as the project has swung from the theoretical dreamscape of Imielski's curiosity into a practical, hard reality. Ideas seep into domestic life and the domestic life splashes up and into the art.
Whilst working on Women Power and Culture I took a morning off to assist with auditions at Blacktown Arts Centre – welcoming actors and performers to their audition. Some I had known or seen or heard of – and others I hadn't. The audition process was a particularly confronting one (auditions often are – on both sides of the fence) as there was an appropriate lack of space. Up close and personal. Replicating the actual experience of performing in a house. And it feels personal. So personal, in fact, that one audition was later held at Michal's house. He had invited actors to sit with him in his house and drink tea and perform audition for each other. The selection of performers is as much about their skill sets as their bravery, their capacity for exploring lines of intellectual and emotional inquiry. This style of creation relies on actor/performer as artist – inquisitive and insatiable and endlessly productive and energetic.
On the first instance of visiting the house where he would begin the work – Michal showed me through – already bits and pieces have been brought into this house, this new world. With devising, anything that is brought into the room/s may be used in performance – or used for a few weeks and then discarded – a constant ebb and flow of collecting and testing and discarding. No actors. Just rooms and a sketch of what each room would hold.
Visiting rehearsals is a surprising pleasure. The ensemble of performers divided into rooms are set tasks and encouraged to bring all they can to show and test.
Some performers are encountering this style of performance making for the first time – others are familiar with Imielski's work having worked with him of on other projects or seeing his previous projects. There is a learning of how and what to do. A vocabulary is introduced, parameters provided – as he curates and shapes and explains and reflects the actions and the ideas.
The process is important.
Imielski – 12 hours a day, six days a week for a month, reading and responding to the ideas and images offered. This his project – but created by many. He is many things.
He is not just director and composer.
Sometimes producer, sometimes dramaturg, sometimes real estate agent, sometimes a sniggering school boy, sometimes a high-art connoisseur, joke teller, father, facilitator, technician, stern authority, "the worst critic the performers could ever have", headmaster, disciplinarian, magician, stage-manager, production manager, negotiator, audience member, defiant participant, nurturer – and, of course, visionary.
And as the actors respond and test and try and monkey about – as they try to out-smart, out-wit, out-think each other – they are all being watched, all viewed by Imileski's sharp and compassionate eye. He keeps them in his sight, praising and reflecting and curtailing in equal measure.
Performers present and offer. Talk and rationalize, test and give, question and demand.
A week out, on another evening the works are showed to each other in embryonic stages – a draft of music, a fledgling set of ideas, he asks for patience and feedback. He requests the right to shut down suggestions… he requests reflection and offers each room an opportunity to fail and derail in a clumsy run through. "A train crash." All crash somehow and in some ways. All see room for development ad improvement – all desire clarity and understanding – all performers keep pushing forward – relentless and insatiable. An eight hour rehearsal and they continue.
What is so exciting about this work is the willingness to push beyond the expected and the everyday – and Imielski's capacity and voraciousness for imagination.
He makes theatre to satisfy the questions he has.
He invites all around him to investigate and push themselves into a creative realm in which they are responsible creators.
He wants to surprise and delight the audience.
He provokes new ways of thinking about theatre, about performance.
He asks what if in such a wild and bizarre way that it is easy to surrender any hang-ups or ideas or notions that hold the artists back.
This is not about making a piece of work to satisfy a mass of peers, or to climb further up the Sydney theatre ladder. His work is not about attracting popular reviews or grand social status.
What he is offering in this production is an invitation to view things differently, to investigate things anew. He draws from his world- a life of tea and teacups, of giant knitted jumpers and awkward love stories. He creates from his personal world – and asks the performers to follow what excites them and offer something of themselves – what they find beautiful, difficult and confronting.
What he draws from is a tradition which is not interested in the grand and glossy large scale corporate venture… what he is making is something which is to scale. A artwork which belongs in a house, which is close to home.
This is a show in a heritage house. Harking back to the domesticity of story telling. This is a show created in the heart of Parramatta. This is a show which asks us how to keep the important things, firmly in our focus:
Time.
People.
Stories.
Pain.
Memory.
Dreams.
Love.
And each night as I walk out of the rehearsal I am reminded of that which I need to lose sight of – those things in my world and thinking which is pedestrian and expected, all that I assume, all that I take for granted, all I have privileged which is irrelevant to the blind.
Without sight, what am I left with? What do I value? What do I know? What do I love? How do I see the world?
And those questions unlock in me as sense of infinite, infinite, infinite, infinite possibility.
And this is just during rehearsal as the show is being created – who knows what will happen, what questions will be raised by the time the show opens next Wednesday…

SHOW DETAILS
Tickets: Adult $20, Conc $15, Groups of 10+ $15*
http://www.riversideparramatta.com.au/performance.asp?pID=1720
Dates & Times:
7:30pm, Wednesday 30 November
7:30pm, Thursday 1 December
7:30pm, Friday 2 December
2pm & 7:30pm, Saturday 3 December
7:30pm, Wednesday 7 December
7:30pm, Thursday 8 December
7:30pm, Friday 9 December
2pm & 7:30pm, Saturday 10 December
Running time: Approx. 2 hours (incl. walk from Riverside).
(This performance contains Adult Themes)
More information:
http://www.artscentre.blacktown.nsw.gov.au/performance/how-to-lose-sight.cfm