WHAT ARTISTS NEED: a morning thought/rant/reckoning before breakfast by Augusta Supple.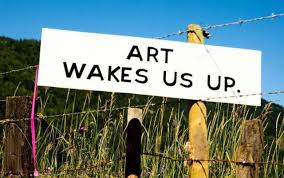 When I wake up every morning I think about the problems and struggles of the Australian creative industries. I think about what I can do to help, what are the structues and systems that keep us making the same mistakes, inventing the wheel, culturally stagnant, infantilizing artists. I wonder if our current system, through its tough and difficult financial terrain misses out on having artists from economically depressed background… Every morning I feel this urge and urgency not to capitulate to a system I have often felt broken or at least lacking confidence (and sometimes this manifests as arrogance or cockiness). Every morning I wake up and start making a personal "to do" list of what I can do to help/change or at least provide opportunity in my patch of the arts: performing arts.
This morning, in my usual "in bed reading reviews, catching up on social media, reading the newspapers" routine, I saw another fantastic provocation in regards to the question of "training artists" on Facebook by Wesley Enoch:
"What's missing? What valuable training opportunities are missing in our industry? How is it best to develop artists? What's working in other parts of the world? Who is best to deliver it? What's your position on training artists?"
And this morning I responded.
I FIRMLY believe that artists need to be PRODUCED not "taught". (Students need to be taught/Artists need to practice.) Now in recent times the popularity of "readings" and round table script reads have been a "near enough is good enough" solution for the playwright. But it's not. Anyone can sit around a table and pontificate about a play: but that's academic. Ask instead for that same person to invest $10,000 and 3 months of their life? COMPLETELY different ball game!
It is my belief that artists need to practice with a variety of colleagues from a variety of backgrounds… That's why all of my projects are inter-generational, multicultural and of large scale. Artists (especially playwrights) need exposure to audiences – and audiences need exposure to artists (Which simply can't happen in a class room or a "round table read").
Artists also need critical conversation about their finished product NOT their developing ideas (an artist knows what's "wrong" with their work…. usually what's "wrong" is that there isn't access to an audience.)
What all artists know as well is that a career or practice in the arts takes time and money and space and network- and you need at least three of these elements to have a career.
OK..
That's enough from me… I have to go eat breakfast. I have a big day of rehearsal ahead.
And if you are wondering what I am rehearsing right now it's an inter-generational multi-playwright project which opens next month SINGLED OUT at The Seymour Centre (Which I'll write more about in coming days): http://www.seymourcentre.com/events/event/singled-out/