David Cunningham's A History of Now | Factory Theatre & Sydney Fringe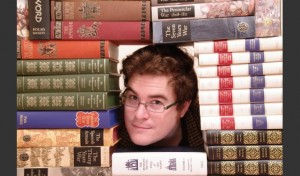 Evening of petty procrastination (laundry avoidance) and JUST NOT being near a computer nor any sort of text obligations (script reading, play assessments, rehearsal preparation) coupled with the fact that I don't own a television, propelled me towards the Factory Theatre for a spot of comic relief. Casual and curious I decided to try my luck at the pick'n'mix of the Fringe Comedy festival ($15) which featured a conveyer belt of middling comics with stories of inter-cultural racism and weed smoking. (Not my thing). (Nice to note that Patrick Magee is still delightful and I might even catch his Doctor Who show if I'm in need of laundry distraction again) …However all that drab and obvious well-worn weed-smoking, race definition stuff was just the hors d'oeuvre to the main meal – the main reason I left my bookcase lined living room in search for human company.
David Cunningham.
This being my first David Cunningham experience (and on the back of a steady and powerfully underwhelming slew of comedians) I think I may fallen a little bit in love with him. (Don't worry, this is not a crazy sexy lusty love – it's good wholesome unrequited courtly love). He's well credentialed as both historian and comedian as his blurb suggests:
"The national runner-up of the RAW standup comedy competition and a fixture on the Sydney comedy scene, David's unique style will make his show one to remember, at least until future comedians rediscover it and point out how wrong he was. Off the back of the success of his show at the 2012 Sydney Fringe, David Cunningham's Evening Learning Humour Symposium, the History of Now promises to be to be as humorous as thorough research will permit."
David Cunningham. Such sweet relief!
Joyful, jolly, bookish historian contextualizes himself and the western world's thinking and portraiture in under an hour.
Aided with the tools of his trade: a jacket fit for a lecturer, MS paint and a power point presentation (supported by a triumvirate of books) – David Cunningham chortles his way through telling us succinct and specific details about some western thinking. His delivery is self-delighting as well as generous to the audience – he checks in on us – and quizzes – helps us when we struggle to answer – and also goes to great GREAT lengths to uncurl and unfurl the background context to a two line joke. And yep.We just might need all the help we can get.
Ah David Cunningham! Clever fellow!
As someone who keeps a copy of Thucydides' History of the Peloponnesian War by my bedside for quick reference in times of emotional disorientation – and as someone who has an ancient name AND a love of history… this is a very easy show to love. I think it's partly the enthusiasm of Cunningham, the obscurity of subject matter and then the sweet nerdy semi-pop culture commentary on the aesthetics of the slide show. It's a welcome departure into refined elegance… which I found weird and refreshing and delightful.
If you are into TED talks, history, curly haired men, portraits of ugly but influential men, thinking, classical music, lectures: you'll enjoy this show. I certainly did.
Tickets are $15.00 The Factory Theatre and there are 2 shows left: Fri 27 Sep, 9:00 PM and Sat 5 Oct, 9:00 PM
– See more at: http://2013.sydneyfringe.com/event/comedy/david-cunningham-history-now#sthash.xYRmluIY.dpuf