Amanda Palmer | Sydney Festival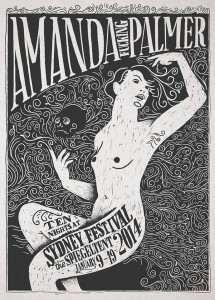 Within the wooden and glass rotunda of the Spiegeltent, small wooden chairs are unfolded and lined up like obedient disciples of punk cabaret goddess Amanda Palmer.
Dedicated fans armed with iPhones and Palmers lyrics ready to recite anthems of confessional realisations, lists of wishes and carefully caught regrets, desire, defiance, passion wait in the dim light of the Spiegeltent.
The stage is set with a keyboard and a chair. Eyes forward we're caught by a sound from behind us – a voice supported by a steady beam of white light. A long silhouette offering a trembling voice…
With a defiant snarl and a steely grey gaze, Palmer, emerges from the back of the room unplugged and heavily strumming a small, loved and battered ukulele.
Stopping to rest on a tent pole the light clings to her powered face, framed with two jagged arching eyebrows – calling out into the 600 seat audience.
A confession is made in the first few moments of the show is one of a love of Australia. Though Palmer has performed in spiegeltents across the world, and labels it as a kind of time machine, she has a deep affection for Australia – and has the album to prove it: 'Amanda Palmer goes Down Under". Songs of wishing to move to Australia and carry a bowie knife… a deep hatred for our national breakfast spread… and she has even called on the assistance of some native musicians to unearth some local music "The Drovers Boy" and to share the stage.
On opening night, in an echo of Palmer's entrance, Brendan Maclean – Australia's much loved despectacled star – slinked into the light in a satin slip dress, a blonde teased quiff and a sultry red-lipped pout for the Bat For Lashes cover "Laura" – a beautiful highlight of the evening's performance.
Within a few songs Palmer admits that there were many people in the audience don't know her – which is a little surprising considering her presence on Social Media and her recent TED talk on giving and crowd funding. What is so compelling about Amanda Palmer is her clear and ready ability to trust the audience with her heart, her opinions, her vulnerability and her body. She demands we listen to poignant narratives of isolation, love, regret, connection, disconnection. She asks us to authentically embrace what it means to be human – the quivering, doubtful, hopeful, angry, hilarious, clumsy, ugly, gorgeous, sexy mess.
And it is difficult not to be grateful for the mighty mistress of "Fuck yeah", "fuck you" "fuck that" – Amanda Palmer.