Empire | Spiegelworld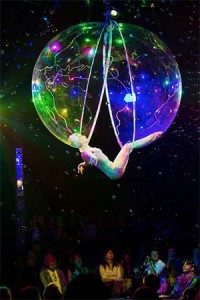 It seems Sydney loves circus.
Circus Oz is at the Big Top in Darling Harbour.
The Sydney Festival is full of it!
La Cucina dell'Arte (Belgium) , LIMBO (Australia), Ockham's Razor (UK), Scotch and Soda (Australia), Kaput (Australia)
We love it like we love an outdoor, pop-up beer beer garden with mulit-coloured bunting.
We also love America (especially New York) with it's fast-paced fast talking… its ambition and glamour and demands…
We love fishnet stockings and romantic acrobatic routines. We love strong women and silent men…
So how could we NOT love Empire?
Written for:
https://www.australianstage.com.au/201401106640/reviews/sydney/empire-|-spiegelworld.html
Watching over us when we enter the garden out front of the Spiegeltent, a man is perched on three-storey high scaffolding. A series of strong hammocks dangle people like heavy fruit. People scuff into the mirrored tent, brace themselves for a show which positions itself as a sexually bent re-invention smashing the boundaries of circus, cabaret, vaudeville and burlesque.
There is something about circus which now, more than ever, captures the attention and imaginations of audiences. In an expanding context of digitized entertainment, animation and YouTube's penchant for democratized curiosities – what we find entertaining is reverting to the very basics of human curiosity: each other.
There have been anxieties as technology evolves that the ancient arts would be lost – the printing press was said to be responsible for the loss of memory, the Internet would destroy libraries, video would kill the radio star. But there could never be doubt that circus would evolve and survive not in spite of the technological revolution but because of the technological revolution. When one witnesses the exquisite feats of curious, specialised, nerve-wracking daring of Empire it seems ridiculous that that the live performing arts were to ever be thwarted nor dwarfed by other platforms and media.
Empire created by Spiegelworld impresario Ross Mollison has harnessed the saucy creative talents of some of Australia's most astounding creative minds: director Terence O'Connell (The Last Laugh, Circus Oz), choreographer John 'Cha Cha' O'Connell (Strictly Ballroom, Moulin Rouge, The Great Gatsby), and costume designer Angus Strathie (Moulin Rouge). Premiering in New York in a vacant lot in Broadway 2012, the show toured Australia in 2013 seen by over 150,000 people and continues to beguile and bewitch audiences with its mix of saucy burlesque cabaret, traditional circus and vaudevillian slapstick.
Woven together by the smooth and sometimes brutally beautiful vocals of the statuesque Miss Purple (Victoria Matlock) and the ruggedly rustic Moondog ( John Shannon), Empire is cohesively themed in the tradition of sneaky, sexy subversive lifestyle – and an aspirational portrait of American glamorous freedom.
Interestingly the performers hail from all over the world: Turkey/Canada, Ukraine, USA, Australia, Ethiopia, Russia: and yet a distinct Americana/patriotic pride is presented… star spangled leotards, a distinct white-toothed American confidence that gleams with unapologetic rambunctious confidence – a slick, sparkling, saucy "come-hither" of a show which takes us on an overwhelming trajectory of awe.
Notably for me was one of the most remarkable portraits of feminine strength, force and focus I've witnessed: Banquine (Gorilla Girls -Katerina Rudenko, Alona Stekolinkova and Alina Reutska). Usually circus acts of this nature include at least one man tumbling and tossing the an agile acrobat in the air – this showed three women of equal talent and statue support each other in an array of intense acrobatic feats.
Breaking up the physical feats of strength, Oscar and Fanny (Jonathan Taylor & Anne Goldmann) punctuate the programme with a series of revealing burlesque "bits" – hilarious, horrific, and squirm-inspiring they reach into the audience, inspiring the panicked murmur of "oh no… they're not going to… they can't… oh no… they did!"
Sandorrn Balance by 3D Graffiti Guy (Memet Bilgin) the one who watched over us at the beginning of the night, pierces the program twice – first with a spinning top balanced on a piece of driftwood, and on the second occasion he balances a feather on the end of a web of branches. What is most remarkable is the focus and intensity of this finale – all attention on the lightest most delicate of objects, supported by steady, steely focus, muscles flexed and dripping with sweat as the structure arcs into the audience. It's a genuinely awe-inspiring demonstration of physics, focus, steadiness. A truly remarkable sight.
Empire is pure entertainment – crass, sexy, gasp worthy, wince-inspiring boldness. It's fish-netted sexiness covering muscle and steadiness and flexibility and hilarious horrific caricature and well-worth escaping into the wild and unapologetic realm of the impossible made possible.